Faculty of Pharmacy
- Main Campus (Higashiosaka City, Osaka Prefecture)
Our mission is to provide quality education in a caring and academic environment and to produce pharmaceutical professionals of the highest level
The Faculty of Pharmacy has a more than half-a-century history. Kindai University is one of the few private universities with a medical faculty and affiliated hospitals. Our strong ties to those resources allow us to provide our students with a wide range of courses and research opportunities, including on-site training.
As medical technology continues to advance, pharmacists roles are changing. Our faculty is divided into two departments to reflect these changing demands. The Department of Pharmacy is a six-year program for students who would like to become pharmacists. The Department of Pharmaceutical Sciences is a four-year program for those who want to pursue a career in R&D or medical information management in the pharmaceutical industry.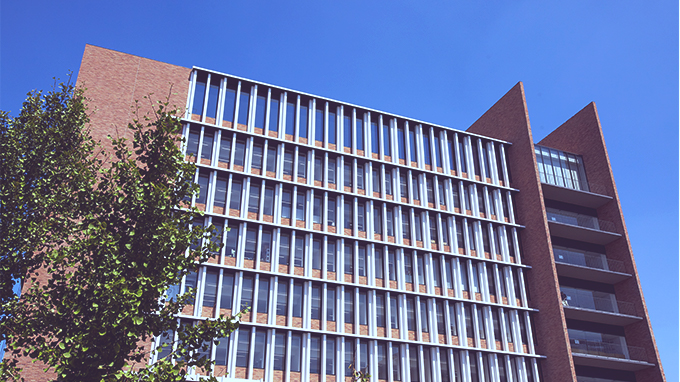 Departments and Programs
| Departments | Annual Student Admissions |
| --- | --- |
| Pharmacy (six-year program) | 150 |
| Pharmaceutical Sciences (four-year program) | 40 |
Curriculum and Facilities
As one of the few private universities with a medical faculty, Kindai University can offer Faculty of Pharmacy students unique courses, such as a one-day nursing experience, as well as opportunities to interact and study with medical students. Our students can also participate in on-site training sessions at our three affiliated hospitals and can learn hands-on techniques and communication skills through field studies. In addition, our high-quality facilities allow students to conduct research and perform experiments using cutting-edge equipment. Furthermore, in order to provide an even better learning environment, we opened a new faculty building in the fall of 2011.
Career Opportunities
Nowadays, a great deal of attention is being paid to the pharmaceutical sciences as an important area of life sciences. Graduates of the Faculty of Pharmacy can find employment opportunities not only in the medical industry but also in other fields, such as public administration and education. Our faculty's career services office assists students find suitable employment - with help from experienced teachers assigned to such career areas as pharmaceutical companies, pharmacies, and hospitals. In addition, we support students who apply for the Examination for Pharmaceutical Practitioners by providing them with a unique learning system and strong guidance. The Faculty of Pharmacy has a committed teaching staff, and we have a high pass rate achieved by students every year to be proud of.