Faculty of Agriculture
- Nara Campus (Nara City, Nara Prefecture)
Our focus on discovering new ways to improve living conditions for everyone is expanding our ability to boldly confront the many problems facing humanity in the 21st century
Agricultural science involves a wide range of areas—from food (specifically the production, usage, and distribution of agricultural, forestry, and fishery resources) to the life sciences and environmental problems. As such, this diverse science contributes greatly to solving the problems currently threatening society, including global warming, worldwide food shortages, and the rise in lifestyle diseases.
Kindai University's Faculty of Agriculture offers the most comprehensive and all-encompassing agricultural program of any private university in western Japan. We are composed of six departments that study and research a wide range of areas concerning the utilization of agricultural, forestry, and fishery resources and also have programs that strive to improve upon the most advanced techniques for food production, nutrition enhancement, biotechnology, and other related areas of study.
By becoming a part of the Support Program for Contemporary Educational Needs (Modern Good Practice) in 2006 and the Global COE (Centers of Excellence) Program in 2008—both of which are under the auspices of Japan's Ministry of Education, Culture, Sports, Science and Technology—the Faculty of Agriculture has put itself at the forefront of agricultural research in Japan.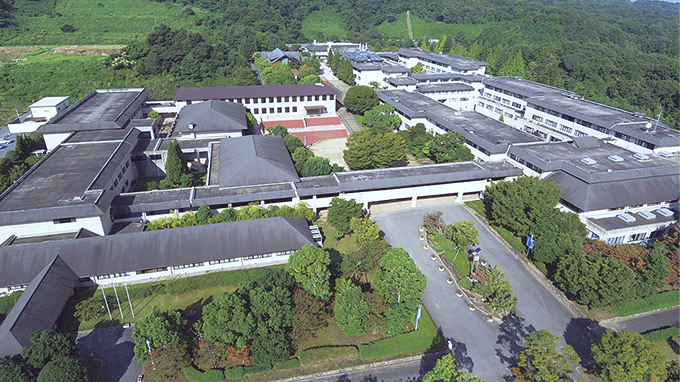 Departments and Programs
| Departments | Annual Student Admissions |
| --- | --- |
| Agricultural Science | 120 |
| Fisheries | 120 |
| Applied Biological Chemistry | 120 |
| Food Science and Nutrition | 80 |
| Environmental Management | 120 |
| Advanced Bioscience | 120 |
Curriculum and Facilities
Surrounded by greenery-rich foothills, the Nara campus adds to the landscape, blending harmoniously with forests and hills to create an atmosphere of peace and tranquility. Here, the Faculty of Agriculture manages experimental farm facilities and fisheries laboratories and conducts various experiments that blend theory and practice.
The Department of Food Science and Nutrition prepares students to become nationally registered dietitians and also provides access to programs affiliated with Kindai University's Faculty of Medicine and its nationally renowned hospitals.
For each of this faculty's departments, the major objectives are: 1) First and second years: to thoroughly learn basic knowledge and agricultural technology and to develop an awareness and appreciation for nature through on-site training programs held outdoors; 2) Third and fourth years: to acquire a large amount of expert knowledge and to do graduation laboratory work in each laboratory.
Additionally, the Faculty of Agriculture works hard to actively promote English education as a means of developing skilled international researchers.
Career Opportunities
The Faculty of Agriculture nurtures graduates by providing basic knowledge about chemistry, biology, and biotechnology. The faculty also enhances students' skills through practical science, and develops their work-ready potential using practical training such as field projects. Moreover, with an eye to facilitating internationalization and helping students meet the challenges of globalization, the faculty works with students to improve their foreign language skills.
Students graduating from the Faculty of Agriculture are valuable human resources who have the ability to solve the various problems facing the world and 21st- century society. This widens their appeal in all areas of society and enables them to engage in a wide range of occupations and projects.
Using the expert knowledge and skills acquired at our faculty, our graduates are 1) developing new products and technologies and solving environmental problems in agriculture, construction, manufacturing, information and communication, and the service industry; 2) working on food-related health management in medical institutions, including hospitals; and 3) teaching children as educators.