Distance Learning Department
- Main Campus (Higashiosaka City, Osaka Prefecture)
Offering All Members of Society an Opportunity for a University Education
Kindai University's Distance Learning Department was established to give more people the opportunity to have a university education. As a pioneer in distance learning in western Japan, this division has been offering its business and economics program since 1957 and its law program since 1960. Courses are also available for students who want to become public or school librarians.
Currently, approximately 6,000 students—2,200 male and 3,800 female—are studying through this division, which has the special advantage of being part of a large-scale university with a variety of faculties and a main campus conveniently located in Higashiosaka City for easy access from all over Japan.
Distance Learning Department students study the same general curricula as students studying at the main campus. Upon completion, students in this division receive the same graduation qualifications as regular Kindai University or Junior College students.
Kindai University's Distance Learning Department is rated highly for its outstanding teaching staff, and for its success in developing the abilities and potential of its students.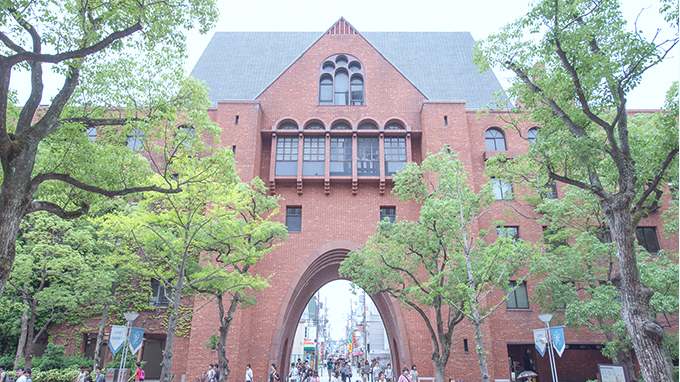 Departments and Programs
Departments
Department of Law, Faculty of Law
Department of Business and Economics, Junior College Division
Courses
Course for School Librarians
Course for Public Librarians
Special Students
Studying in Their Own Way, According to Their Own Needs
Students can enroll in the Distance Learning Department in one of three ways: as a regular student, a part-time student, or a special student. Regular students are those who are already qualified to enter university. They take regular courses in order to graduate and have two options for selecting their courses. One is to learn step by step (i.e., during their freshman year, they take only first-year courses). The other is to take any subject they want at any time (up to 38 credits per academic year). Regular students who complete the law program are awarded a bachelor of law degree (B.L.). Those who finish the business and economics program earn an associate of business and economics degree. And regular students who complete one of the courses for librarians receive the corresponding librarian's certificate.
The librarian courses are also open to university and junior college graduates, students currently in their junior or senior year at a university, and students currently enrolled in a junior college. Students in those groups are eligible to take the courses as part-time students in the Distance Learning Department. Anyone who has graduated from high school and is enrolled as a part-time student in the Distance Learning Department can take any of the subjects offered, except for those related to the school librarian course.
Special students are those who are not yet qualified to enter a university for some reason, such as dropping out of high school. Special students can study to gain admittance to a university. They have the option of taking only courses that they choose for themselves, or they can follow the same curriculum as regular university or junior college students. However, special students are not eligible to graduate or get a degree.