Faculty of Architecture
- Main Campus (Higashiosaka City, Osaka Prefecture)
Founded on Developing Innovative and Creative Architects
The goal of the Faculty of Architecture is to constantly be at the forefront of architectural design, study, and trends in the 21st century. In order to do this, the architecture program has been redesigned into a newer, more vibrant holistic program that incorporates various fields of study (e.g., the arts, social sciences, and engineering). The result is a well-rounded and balanced architectural study program that extends well beyond other more traditional programs. This leads to the creation and maintenance of sustainable and time-tested architecture. The faculty aims to develop architects who are innovative and creative in both thought and design.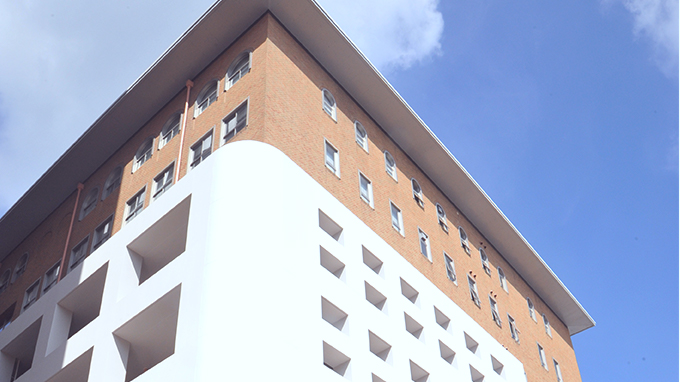 Departments and Programs
Departments
Annual Student Admissions
Programs
Architecture
280
Architectural Engineering
Architectural Designing
Architectural Residence
Planning Management
Curriculum and Facilities
Major in Architectural Engineering
Developing architects with professional engineering expertise
With the recent sophistication of architectural technologies (as evidenced by skyscrapers and structures with extremely complex and diverse geometrical designs), architects today need a broader, more holistic knowledge base in order to comprehend the characteristics of various buildings and their surrounding environments. Thus, students of the Faculty of Architecture's major in architectural engineering learn to comprehend architectural structures, environments, and designs. They integrate this knowledge in a practical manner so as to become not only professional architects but also highly skilled building engineers.
Major in Architectural Designing
Developing architects who are creative in both thought and design
The major in architectural design provides a solid foundation in practical studies of, and knowledge of the most current architectural design research. This is particularly evident in the Studio Design class, a third-year class, where practicing architects guide and advise small groups of students with hands-on instruction. The curriculum in this major also provides multifaceted courses in various design theories, including chromatics, landscape design and urban design. Within this varied curriculum, students are provided with great opportunities to develop their own unique architectural sensibilities.
Major in Architectural Residence
Developing architects who can design and create housing for our fast-changing, ever-evolving society
With the primary focus on housing, this major provides a comprehensive curriculum for studying design, planning, environment, and structure. The coursework in this major has three objectives. The first objective is to study housing in relation to our society (i.e., to think about the social role of housing from the viewpoint of one's daily life as well as from the viewpoints of those within the community). The second is to study housing in relation to our environment (i.e., to obtain professional knowledge of housing, while considering various environmental issues, including those related to health). The final objective is to study wooden housing, with a particular focus on the more conventional and traditional housing architecture in Japan.
Major in Planning Management
Developing architects who are specialists in planning and management
The major in planning management provides a solid curriculum and varied coursework from the standpoint of planning and management. This major is of particular value in countries like Japan that have an architecturally mature society and an enormous amount of building stock (a so-called "stock society"). Due to rapid social change, there is a strong necessity to construct buildings and design cities with a clear future vision. It is critical that we build flexible architecture that can be sustainable. The study in this major is mainly threefold: (1) architectural planning that proposes architecture appropriate to the land and city—this planning must take into consideration various social factors as well as economic conditions; (2) architectural management that can create new buildings as well as foster and develop existing ones; and (3) urban planning that reinforces the role of architecture in both urban and rural settings.
Career Opportunities
Exceptionally diverse coursework—covering architectural technologies, culture, history, art, and more—the Faculty of Architecture allows students to develop a broad range of professional knowledge that is invaluable for their future careers. The main target is still the building industry. Yet with the recent influx of companies breaking into the private housing industry, there is a rising demand for architects to work in this field. Thus, future careers can be found in the private housing industry, architectural design offices, public offices, building equipment and materials companies, as well as in the IT industry, just to name a few.