Faculty of Humanity-Oriented Science and Engineering
- Fukuoka Campus (Iizuka City, Fukuoka Prefecture)
Engineering a Better Society through Science and the Humanities
To improve engineering for the benefit of human welfare, Kindai University's Faculty of Humanity-Oriented Science and Engineering brings together knowledge from the areas of science and the humanities. It was founded in the western Japan city of Iizuka in Fukuoka Prefecture to serve as a window of exchange with other Asian countries and to promote education, technology, and industry. Backed by a 50-year history, five departments, and 13 major courses of study, the Faculty of Humanity-Oriented Science and Engineering emphasizes a human-centered education and strives to realize a society where people can live more comfortably and conveniently.
A profound relationship to industry and society is of critical importance in a field as broad as this—one that ranges from science to business education. The Faculty of Humanity-Oriented Science and Engineering fosters students who, after graduation, will contribute to the realization of an environmentally conscious society where information technology is available everywhere, and members benefit from each other.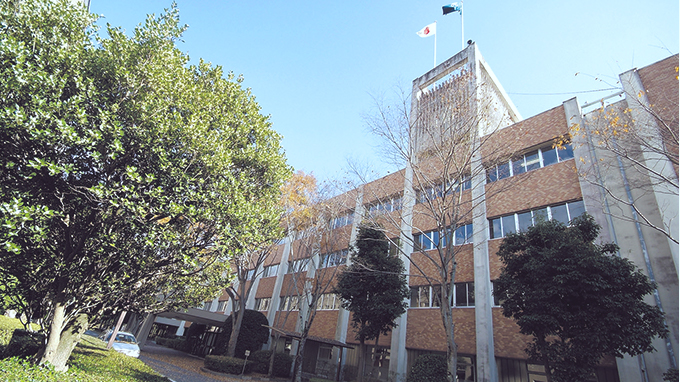 Departments and Programs
| Departments | Annual Student Admissions |
| --- | --- |
| Biological and Environmental Chemistry | 75 |
| Electnic and Electronical Engineering | 65 |
| Architecture and Design | 90 |
| Information and Computer Science | 70 |
| Management and Business | 120 |
Curriculum and Facilities
Our faculty is proud of its curriculum - which is focused on giving students a practical education in the fields of both science and the humanities. Our excellent facilities for carrying out experiments and research make this practical education possible. We have a network research laboratory, an information engineering laboratory, and classrooms designed for language education. What's more, we are equipped with advanced laser microscopes and with large-scale devices for minimizing damage from earthquakes. The use of these facilities greatly enhances our students' education.
The faculty also has a special program for those who seek to become JABEE-accredited (Japan Accreditation Board for Engineering Education) engineers. We actively promote academic exchanges with universities in other Asian countries and are always in search of additional ways to advance our educational standards.
Career Opportunities
Our curricula include compulsory courses in life design, career design, and job search planning as well as internship programs and volunteer activities—all of which help students analyze themselves and their life goals. In addition to regular courses, we have courses for those who wish to obtain various certifications. And our staff members support students in their job search activities right from the time of admission.
As a result of these efforts, we are proud of our job placement achievements—leaders in the western Japan region. Through close ties with major corporations, the Faculty of Humanity-Oriented Science and Engineering is providing the business world with high-level engineers in biochemistry, architecture, and accounting.