Faculty of Literature, Arts and Cultural Studies
- Main Campus (Higashiosaka City, Osaka Prefecture)
"Approaching various aspects of human civilization, historical and contemporary, and engaging in one's own specific creative activities through the disciplines of literature, culture, arts and communication"— Faculty Motto
The Faculty of Literature, Arts and Cultural Studies, founded in 1988, aims for its students to acquire insights into human culture by comprehending broad perspectives on life, achieving a higher degree of critical awareness, and developing a way of thinking that will help them determine their own path in life.
This faculty is made up of four departments focusing on literature, culture, arts, and communication. The Department of Literature consists of two majors: (1) Japanese literature and (2) English language and English and American literature, in which students study the languages and literature of different countries to arrive at their own understanding, from an international viewpoint. The Department of Cultural and Historical Studies explores the ways of various human civilizations through such disciplines as archeology, folklore, and historical and social sciences. The Department of the Arts trains students in various fine arts and drama to help them create their own original works and performances. The Department of Cultural Design, newly opened in 2016, aims to foster individuals who can design new systems and programs that link culture and the arts with society.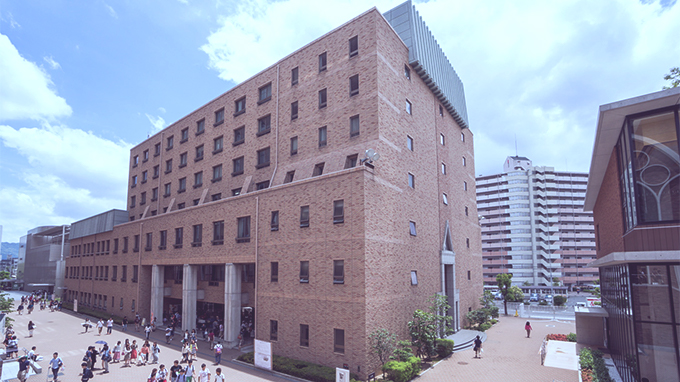 Departments and Programs
Departments
Annual Student Admissions
Majors
Programs
Literature
180
Japanese Literature
Literary Creation & Criticism
Language & Literature
English Language and English and American Literature
—
Arts
115
Performing Arts
—
Visual Arts and Art Studies
—
Cultural and Historical Studies
140
—
—
Cultural Design
80
—
—
Curriculum and Facilities
The ethos of the faculty is to develop each student's abilities, utilizing small class sizes and a finely systematized teaching method—something rarely found in the humanities faculties of private Japanese universities. About half of the subjects offered are interdisciplinary and open to all students. Students can freely choose their own subjects and formulate their own curriculum. To go beyond one's chosen major to experience the disciplines of literature, culture, arts, and communication is a unique point of the faculty's ideology of promoting knowledge through creativity for a fulfilling learning experience.
The Faculty of Literature, Arts and Cultural Studies includes many renowned contemporary scholars and experts, such as literary authors, critics, dramatists, stage directors, dancers, painters, and designers. Students can interact with faculty members to gain a better appreciation of their special skills and sensibility.
Career Opportunities
The ability to communicate what one thinks in one's own way is important in life and career. In today's increasingly globalized world, language skills and the ability to appreciate different cultures as a basis for mutual understanding are highly prized attributes for graduates.
Graduates of Kindai University's Literature Department and Cultural and Historical Studies Department gain employment in various private enterprises as well as in the field of mass communication. Many become teachers or work as public officials. Graduates of the Arts Department can count stage actor, dramatist, stage director, ceramic arts creator, interior designer, and art teacher among their many career choices. Graduates of the Department of Cultural Design can expect to find jobs that will enable them to apply "design"—in the broad sense of the word—in society. Potential career fields are wide-ranging: business management, communications, marketing, design, public administration, and more. All students are encouraged to realize their career paths through their majors, and individualized course of study.