Faculty of International Studies
- Main Campus (Higashiosaka City, Osaka Prefecture)
Preparing Performers for the Global Stage
As globalization makes the world ever more connected, there's a growing need for people who can play an active role on the world stage. In response to this need, Kindai University opened its 14th faculty in April 2016. Our new Faculty of International Studies focuses on foreign languages and international relations, all the while emphasizing the university's founding principle of "learning for the real world." Our goal is to turn students into globally minded individuals with excellent communication skills, a broad-based education, and the ability to think and act independently.
The new faculty comprises two majors: the Global Major and the East Asia Major. Students majoring in either of these areas are required to study abroad for one year, beginning in their first year.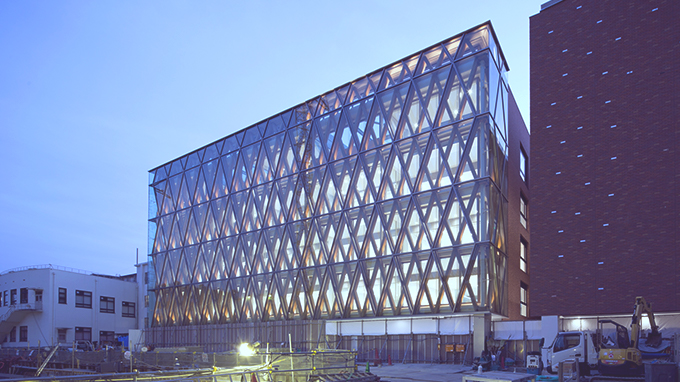 Departments and Programs
Department
Annual Student Admissions
Majors
Programs
International Studies
450
Global
Global Studies
Communication Studies
Asian Studies
50
East Asia
Chinese
Korean
Curriculum and Facilities
Kindai University has teamed up with Berlitz Corporation, a global language education company. Berlitz has a history of more than 130 years and a proven track record of providing language training to over 12,000 corporate clients. The partnership enables Kindai University to enrich its practical education. Students gain the basic English skills needed for overseas study and other academic work, along with other practical communication skills.
Students enrolled in the Global Major spend one year studying in the United States. For their third year, they choose an area of specialization: either Global Studies, Communication Studies, or Asian Studies. These courses focus on exploring what students can accomplish with their English skills. Students enrolled in the East Asia Major are assigned to the Chinese course or the Korean course upon entering the university. They then spend a year studying in China, Taiwan, or Korea. After returning, they delve into more specialized studies while also improving their English skills.
All language education is conducted in small classes - 15 students per class - grouped by proficiency level. Comprehensive foreign language studies encompass the four skill areas of reading, writing, listening, and speaking.
Career Opportunities
With their foreign-language proficiency and ability to appreciate various cultures, graduates in International Studies will find employment in diverse fields. Their international mindset will prove valuable in private enterprises, public administration, research institutions, educational institutes, NPOs and NGOs, mass media, international organizations, and more. They can also go on to graduate school in Japan or overseas.