Faculty of Law
- Main Campus (Higashiosaka City, Osaka Prefecture)
Practical Legal Knowledge for a Rapidly Changing Society
As the issues facing society become increasingly complex, there is an even greater need for individuals with the legal training and ability to meet such challenges. The main focus of the Faculty of Law is to instill in students the spirit to pursue the practical education needed in an ever-changing legal environment. The analytical skills acquired through the study of law extend beyond the legal field and touch on a wide variety of qualifications and employment opportunities, including the path to a career in public service.
The Department of Law prepares students to tackle future legal issues by expanding both their legal knowledge and legal thought processes - the development of the "legal mind." Taking a minor in English gives students an even stronger grounding in that language and rounds out their legal education with a broader international outlook.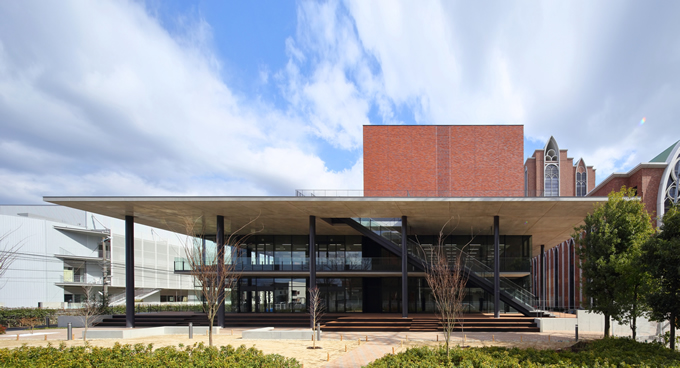 Departments and Programs
| Departments | Annual Student Admissions |
| --- | --- |
| Law | 500 |
Curriculum and Facilities
A diverse society demands a high level of specialized legal knowledge. The Faculty of Law prepares graduates to meet this challenge. During their first two years, students concentrate on gaining a thorough understanding of fundamental subjects and, beginning in their second year, decide on an area of specialization. Students who want to explore their future possibilities and determine what areas would suit them best can choose from one of four specialized programs: Crime, Delinquency, and Law; Economic Activity and Law; Accounting, Taxes, and Law; or Urban Development and Law. Students who already know what they want to do after graduating can choose from one of three specialized courses: Judiciary, International, or Public Administration. The progression from fundamental concepts to more specialized courses gives students a more systematic legal education and also facilitates a smooth transition into later employment.
In order to supplement students' practical legal education, the Faculty of Law also offers a wide variety of on-site courses. Moot court classes let students take the roles of prosecutor and defense attorney to practice making arguments in the faculty's moot court classroom, and internships let students gain firsthand experience working alongside legal and business professionals.
Career Opportunities
Graduates enjoy employment opportunites in a wide variety of areas. Individuals seeking future employment as judges, lawyers, and prosecutors naturally follow the path to law school. A number of past law graduates have become certified public accountants and public servants both domestically and abroad. Other graduates go on to employment with non-profit organizations.
Finally, the university offers a number of extracurricular classes to prepare students for the licensing exams that are part of many popular career choices. Examples include test preparation courses for the judicial scrivener, public servant, tax accountant, and computer specialist exams. English proficiency tests such as TOEIC® and TOEFL® are also regularly offered on campus.