Faculty and Researchers
Mathematics and Physics
Applied Mathematics
An introduction to faculty staff members and laboratories in the Applied Mathematics.
Note: Information on the laboratories is current as of the 2023 academic year. There may be changes to this information in the 2024 academic year.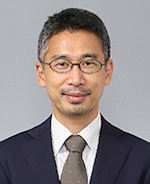 Position

Professor

Laboratory

Discrete Mathematics Laboratory
Graph Theory
Most discrete structures can be expressed in graph form. Graph theory represents a major research field of discrete mathematics. Here, research is conducted into extremal graph theory, which is the relationship between invariants and local substructures of the graph.
Position

Associate Professor

Laboratory

Industrial Management Engineering
Industrial Management Engineering, Quality Management, Operational Research, Applied Statistics
Industrial Management is a activity of achieving efficiency, rationalization, and optimization in production systems. This laboratory researches and develops some methods of Industrial Management based on data science and ICT.