Language Education
Our courses provide students with the opportunity to explore and better understand the local, regional and global communities in which they live, study and (will) work, facilitating their personal and professional growth, and empowering them as active participants.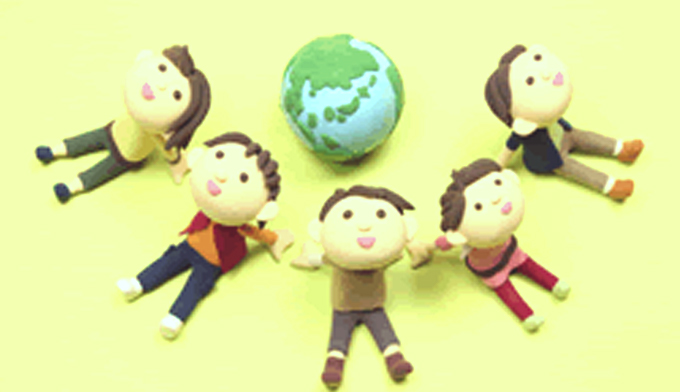 Language Education in the Faculty of Science and Engineering
Foreign language study at Kindai
In addition to English, the Faculty of Science and Engineering offers other foreign languages for study: Chinese, Korean, German, and French. In the first year, students have the opportunity to gain key knowledge, skills and experiences related to these languages, and their use in interaction. In the second year, students build on this foundation in order to use the language with confidence, in real world contexts. They do this by listening to longer passages, practice speaking, reading basic texts, and writing passages.
With regard to English courses:
Classes are based on English proficiency level
Oral English taught by native speakers of English


Oral English 1/2/3/4 are small classes taught by native speakers of English focusing on speaking and oral production.

Faculty of Science and Engineering Original Textbook: "First Year in RIKO"
English 1 and 2 are required subjects for first-year students and use a textbook specifically written for students enrolled in the Faculty of Science and Engineering. This textbook was designed so that students in the Faculty of Science and Engineering could learn about various aspects of campus life in English. No ordinary textbook, it aims to give students a deeper understanding—in English—of the university and the Faculty of Science and Engineering so that they can describe their campus life and experiences in English. It is also designed to help students apply what they have learned from the textbook to their life at university and their future career.
Through the textbook, students practice the four skills (reading, writing, speaking, and listening) for a balanced approach to acquiring English. The textbook also contains practice questions for the TOEIC® Listening & Reading Test, a major English certification exam.
Emphasis on TOEIC® strategies


Upon entering the university, students take the TOEIC Bridge® Listening & Reading Tests as a placement exam. At the end of their first and second years, all students take the TOEIC® Listening & Reading Test. The results of these tests allow students to reflect on their overall progress in English. As well, the test results help the faculty to evaluate the efficacy of the English language program.

English proficiency tests count as credits


TOEIC Listening & Reading Test, TOEFL®, IELTS™, and Eiken English proficiency tests that students take while at Kindai count towards course credits.

Overseas language study count as credits


At Kindai's Global Education Center, students can apply for a short-term language program at universities in English, Chinese, or Korean-speaking regions. These one-month programs cover summer break or spring break. If students get a certain level of grades, they count towards course credits. These courses have shown to be a prime motivator for students to continue to develop their second language skills. In addition, studying abroad develops the students' critical thinking skills by learning more about the world.

Language learning facilities, programs, events


Outside of the classroom as well, Kindai offers a wealth of facilities and programs that students can use for language learning. Making use of these allows them to further improve their foreign language proficiency.
Foreign Language Curriculum
Foreign language subjects
1st year
2nd year
3rd year
1st to 4th year
Required subjects
Elective required subjects
Elective subjects

Overseas Language Study (English) [2]
Overseas Language Study (Chinese) [2]
Overseas Language Study (Korean) [2]

Repeat subjects

Practical English 1 [2]
Oral English 1 [1]

Practical English 2 [2]
TOEIC 1[1]
Oral English 2 [1]
Oral English 3 [1]

TOEIC 2[1]
Oral English 4 [1]
In the Department of Applied Chemistry, Science and Technology English 1 / 2 are required subjects
In the Department of Informatics, to advance to the third year, students must have acquired at least two credits in a second foreign language subject (Comprehensive German, Comprehensive French, Comprehensive Chinese, Comprehensive Korean).
In Comprehensive German 1 / 2, Comprehensive French 1/ 2,
Comprehensive Chinese 1 / 2, and Comprehensive Korean 1 / 2, students must take subjects 1 / 2 of the same language in succession.
In order to take Comprehensive German 3 / 4, Comprehensive French 3/ 4, Comprehensive Chinese 3 / 4, or Comprehensive Korean 3 / 4, students must have already acquired credits in either 1 or 2 of the same language subject.
Required Subjects
First year
Practical English 1 & 2
In these classes, students develop comprehensive abilities in basic English. Using a specially created textbook focusing on Kindai and the Faculty of Science and Engineering, students expand their vocabulary, and improve both reading and listening skills. Students also improve their writing ability and develop better fluency by doing short presentations.
Oral English 1 & 2
Following the completion of this course, students should feel more confident in their English communicative skills, allowing for more successful international travel. Moreover, these communication skills are essential for participation in today's global society. Finally, these skills will be of use if students pursue graduate studies.
Second year
TOEIC 1 & 2
In these classes, students do practice questions from TOEIC, one of the major English certification exams.
Besides an emphasis on acquiring basic English vocabulary and vocabulary commonly appearing in TOEIC, students work to improve their listening, grammar, and reading comprehension.
Elective Required Subjects
Second year
Oral English 3 & 4
Following the completion of this course, students will be able to give short and simple presentations using English. This will be beneficial for students who continue studying in graduate school or those who work for international companies and organizations. The skills of presentation and speech are also transferable when presenting in any language, thus making the students better and more confident communicators.
Third year
Writing 1 & 2
In these classes, students continue to improve their written skills in English. While formulating knowledge of English grammar and increasing their vocabulary, they learn to express in English the affairs and occurrences that surround them. And through practice in writing logical work-related emails as well as texts on a wide range of topics, they become proficient in expressing opinions and correctly conveying their ideas to others.
English for Science and Technology 1 & 2
In the field of science and engineering, there are countless examples where communication must be conducted in English; these include gathering information from English journals and academic papers, publishing research results in international scholarly journals, giving presentations at scientific/academic or business conferences, and exchanging information with fellow researchers or business associates in other countries. In these classes, students who will work as either engineers or researchers use English in regards to their specific major, thus improving their ability to communicate in English in their specialized field.
Elective Subjects
First year
Basic German 1 & 2
Students use a situational as well as conversational textbook to learn the workings of German. They do this through graded and repetitive learning that includes explanations of grammar and practice listening to and speaking vocabulary and phrases in German. The textbook also introduces life in the German-speaking countries.
Basic French 1 & 2
French is the second most popular language for people around the world to learn. It is also not difficult to learn since it has many words in common with English. This course gives students a balanced grasp of French through listening, speaking, reading, and writing. Students will enjoy learning basic grammar through daily interactional as well as transactional conversations and will progress to being able to read simple texts in French.
Basic Chinese 1 & 2
Students familiarize themselves with elementary communication in Chinese by listening to, speaking, reading, and writing the language. In Comprehensive Chinese 1, while the primary goal is to understand the syllable structure of Chinese and learnPinyin (the standard romanization system for Chinese), students also get a good grasp of basic grammar so that they can introduce themselves and have simple conversations in Chinese.
In Comprehensive Chinese 2, the goal is for students to use the Pinyin they have learned so far to be able to correctly read and pronounce each of the Chinese characters. The course is also designed to help students communicate at a beginner level by being able to hear and speak basic sentences in Chinese.
Basic Korean 1 & 2
In Comprehensive Korean 1, the goal is for first-time learners of Korean to acquire basic skills in reading, writing, listening, and speaking. After starting with the reading and pronunciation of Hangul, students move on to basic vocabulary and grammar. With a focus on repetitive speaking practice, they learn basic conversation.
In Comprehensive Korean 2, students deepen these skills through more advanced practice reading, writing, listening, and speaking. By gaining proficiency in basic vocabulary and grammar and repeatedly practicing a range of expressions, they work towards the goal of speaking basic conversational Korean.
Second year
Academic Reading 1 & 2
In this course, students improve their academic reading proficiency by studying a broad range of passages in English. This is so that they have the fundamental skills for understanding specialized English texts, such as those in academic papers, when they reach the upper years of university. Besides establishing a firm grasp of vocabulary and grammar through practice questions, they study academic English, which will be of use if they go on to graduate school.
Basic German 3 & 4
Reviewing the grammar and basic structure of German learned so far, students listen to and speak vocabulary and expressions, and write essays in German so that they can use the language in daily life and apply it to a range of situations. In addition to the textbook, instructors provide supplementary worksheets when necessary.
Basic French 3 & 4
In Comprehensive French 3, students expand their grammar knowledge by using it in enjoyable conversations. The goal is grasping the ability to use French easily while also understanding the cultural context. Upon completion, students should be able to have a conversation with a native speaker of French, speak French on their travels, and pass level 4 of the French proficiency test.
In Comprehensive French 4, students will polish what they've learned so far and gain a close-to-complete understanding of grammar. While studying enjoyable conversations in a range of daily situations, students learn to use expressions on their own, acquire vocabulary in various fields, and become able to read and understand basic texts. In the process, they will develop a deeper understanding of culture in French- speaking countries.
Basic Chinese 3 & 4
These classes are for students who have taken Comprehensive Chinese 1 / 2 and acquired the basics of the language. They will expand their vocabulary and grammatical knowledge and learn how to express themselves in Chinese. In Comprehensive Chinese 3, the emphasis is on reading and writing as students acquire the fundamentals of using Chinese. Students aim to understand written texts and write what they mean to say, and properly convey information and their thoughts in a manner appropriate to situation and intent.
In Comprehensive Chinese 4, students continue to expand their vocabulary and knowledge of grammar, learn to express themselves in Chinese, and improve their ability to use Chinese comprehensively.
Basic Korean 3 & 4
In Comprehensive Korean 3, students who have taken Comprehensive Korean 1 / 2 proceed to a practical usage of the language. Building on their ability to use the language they have studied, students learn a wider range of vocabulary and expressions. In Comprehensive Korean 4, students continue their journey to even greater practical usage. Using a variety of vocabulary and language, they learn useful expressions and get a look at Korean culture.
Student Interview
Seizing opportunities—from backpacking around the world to establishing a welcome program for international students
After I joined the Faculty of Science and Engineering, I took a "why not give it a try?" approach and had a variety of overseas experiences. In my first year, I took part in a study trip to Silicon Valley sponsored by our faculty. In my second year, I was part of a student team that held a cultural event in China as one of the projects of the Japan Foundation China Center. Starting from scratch, our team of students from Kyoto University, Osaka University, and Kindai University planned the whole thing, culminating in an event attended by about 550 people.
Ever since entering university, I've done everything possible to study foreign languages: went backpacking around Asia, Europe, and Africa during long school breaks; took language courses at Kindai's Language Education Center; and spent time at campus facilities such as E-Cube (The Village E3).
I also actively take part in the Kindai Russia Project. In my second year I joined a sea voyage to Vladivostok through a Tokai University-sponsored program. In my third year, I joined the Japan-Russia Youth Forum hosted by the Japan- Russia Youth Exchange Center. The Russia Project gave me the chance to establish the Riko Global Study Group (GLOBE), of which I was the chairperson and which provides information on overseas programs, internships, short-term study trips, and travel.
This year, as part of the Russia Project, I planned the Omotenashi Project to coincide with the start of short-term students from Russia at Kindai.
Following the second semester of my third year, I intend to study at a university in St. Petersburg in order to improve my Russian and get better at adapting to new environments.
During these past three years I have been able to get together with many people and experience a variety of cultures. I firmly believe in the willingness to try anything, not just in the overseas experiences I have mentioned but in every aspect of life. I realize that these experiences are what fuel my personal growth. That's why I want to convey to as many people as possible the importance of taking the opportunities to get out and experience things for yourself.
Kentaro Kotani
3rd year, Department of Electric and Electronic Engineering;
Graduate of Shiga Prefectural Higashi
Otsu High School