Faculty and Researchers
Environment, Civil Engineering, and Architecture
Transportation Science and Technology
An introduction to faculty staff members and laboratories in the Transportation Science and Technology.
Note: Information on the laboratories is current as of the 2023 academic year. There may be changes to this information in the 2024 academic year.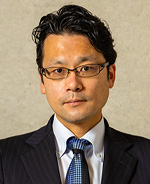 Position

Associate Professor

Laboratory

Traffic Informatics Laboratory
Traffic Informatics, Human Sensing, Wearable Computing
To achieve a safe and secure traffic environment, we conduct research on using ICT in systems that can understand the individual personality characteristics of each vehicle driver or bicycle rider, and provide safety support tailored to each person.
Position

Associate Professor

Laboratory

Welfare Planning Laboratory
Transportation Planning
We research the relationship between people and the social environment from a variety of perspectives, such as engineering, health and well-being, psychology, and cognitive science. In particular, in recent years, we have also been doing R&D on equipment to support independent living by people with disabilities.