Faculty and Researchers
Biology and Life Sciences
Biology
An introduction to faculty staff members and laboratories in the Biology.
Note: Information on the laboratories is current as of the 2023 academic year. There may be changes to this information in the 2024 academic year.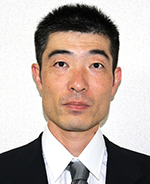 Position

Associate Professor

Laboratory

Laboratory for Dynamic Living Systems
Biophysics, Bioimaging
Biomolecules are nanometer-sized molecular machines working in living cells. Our research goal is to elucidate the operating principle how biological molecular machines work efficiently in collaboration with water molecules.