Academic Staff and Fellows
NAGASAWA Yasuhiro

Associate Professor Doctor of Enginnering
Department/Architecture  Graduate school/Environmental Engineering
We conduct research on the planning, analysis, and evaluation of environmental building service systems to achieve indoor environments that will enable people residing in buildings to live in comfort and good health with minimal energy consumption.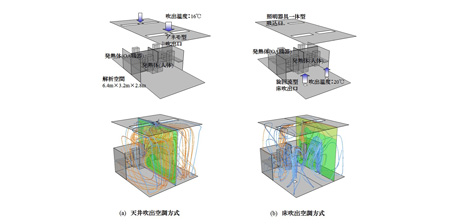 Prediction of Temperature Distribution Based on Air Diffuser Model for CFD Simulation
Research Area
Architectural Environmental Engineering, Architectural Equipment Engineering, Thermal Environment and Indoor Air Quality
Research Interests
Air Conditioning and Ventilation, Air Diffuser Model, Thermal Insulation Material, Zero Energy Building
Selected Publications
(1) EXPERIMENTS ON INFLUENCE OF MOISTURE ON THERMAL PERFORMANCE CHANGE OF INSULATIONS Long term thermal performance of building insulation materials Part 2, J. Environ. Eng., AIJ, Vol.75 No.649, 2010.3
(2) P.V. METHOD AS CFD MODELING OF SYSTEM CEILING AIR DIFFUSER AND ITS APPLICATION, J. Environ. Eng., AIJ, Vol.76 No.667, 2011.9
(3) FACTORS OF AIRFLOW DISTRIBUTION SYSTEM CEILING AIR DIFFUSERS AND ITS UNSTRUCTURED FINE ELEMENTS CFD SIMULATION Development of airflow data for CFD simulation with an air diffuser model and its application (Part 1), J. Environ. Eng., AIJ, Vol.77 No.672, 2012.2
Education
(Undergraduate Course)
BE and ME from Musashi Institute of Technology
Architectural Environment and Building Services Laboratory
E-mail
nagasawa(at)arch.kindai.ac.jp

Note that this e-mail address has replaced the "@" with "(at)" to prevent spam. When e-mailing, replace the "(at)" with "@".
Academic Staff and Fellows