Academic Staff and Fellows
OHBOSHI Naoki

Professor Ph.D.,D.D.S.
Department/Informatics  Graduate school/Electronic Engineering
We apply information technology to medical care safely and without imposing a burden on doctors or patients. To this end, we conduct research on ubiquitous computing, advanced image and video processing, and user-friendly interface technologies.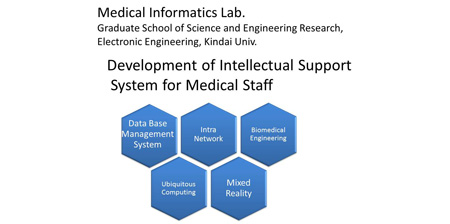 Intellectual Support System for Medical Staff
Research Area
Medical Informatics
Research Interests
Medical Informatics
Selected Publications
(1) A Three-Layered Model of Nursing Based onHospital Observation Data, Methods of Information in Medicine, Vol.48, No.6, pp.574-581,2009.
(2) Embedded Ubiquitous Services on Hospital Information Systems,IEEE Transactions on Information Technology in Biomedicine, Vol.16,No.6,pp.1216-1223, 2012.
(3) Evaluating the Workload Reduction of Automatic Vital Data Transmission, Advanced Biomedical Engineering, Vol.2, pp.124-129, 2013
Research and Achievements
Education
(Undergraduate Course)
School of engineering, Dentistry Osaka Univ., Graduate School of Medicine Kyoto Univ.
Laboratory of Medical Informatics
E-mail
stern(at)info.kindai.ac.jp

Note that this e-mail address has replaced the "@" with "(at)" to prevent spam. When e-mailing, replace the "(at)" with "@".
Academic Staff and Fellows