Academic Staff and Fellows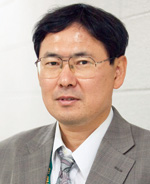 TANIMOTO Hirokazu

Assistant Professor Doctor of Engineering
Department/Electric and Electronic Engineering 
This lab conducts research related to methods to accurately control a diverse range of power systems that use induction motors such as in elevators and high-speed Shinkansen bullet trains. We also study microprocessors embedded in industrial products such as air conditioners.
Sample cell
Research Area
Control Engineering
Research Interests
Induction motor,Sensor,Optical circuit
Selected Publications
On Electronic Type Cavity Ring-Down Spectroscopy,Cavity Ring-Down Characteristic Using Reflective Semiconductor Optical Amplifier,On Electronic Type Cavity Ring-Down Spectroscopy
Education
(Undergraduate Course)
KINDAI UNIVERSITY
Electronic Control Engineering Laboratory
E-mail
tanimoto(at)ele.kindai.ac.jp

Note that this e-mail address has replaced the "@" with "(at)" to prevent spam. When e-mailing, replace the "(at)" with "@".
Academic Staff and Fellows