Academic Staff and Fellows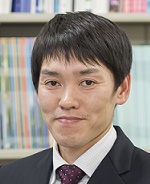 TANAKA Senku

Associate Professor Ph. D.
Department/Electric and Electronic Engineering  Graduate school/Electronic Engineering
Our main target is a new electronic device with organic semiconductors. Especially, we are focusing on the development of organic solar cells.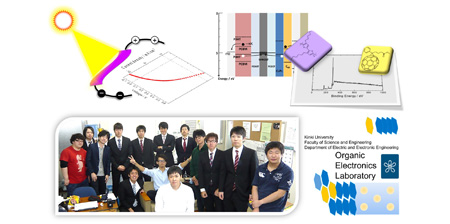 Join our study for the development of organic electronics!
Research Area
Organic Electronics, Organic Solar Cells
Teaching (Undergraduate Course)
Introduction to Materials Science, Electrical Materials, Semiconductor Electronics, Solar Energy Engineering
Teaching (Graduate Course)
Organic Electronics
Research Interests
Organic solar cells、Organic Photovoltaics、Organic-inorganic hybrid devices
Selected Publications
1. Senku Tanaka, Siti Khadijah Binti Rosli, Ken Takada, Norito Taniai, Takuya Yoshitomi, Hideo Ando, Kouichi Matsumoto
"Effects of bromination of poly(3-hexylthiophene) on the performance of bulk heterojunction solar cells"
RSC Advances, 7 (2017) , 46874–46880.
DOI: 10.1039/C7RA07454A
2. Hironobu Ishibashi, Mikimasa Katayama, Senku Tanaka, Toshihiko Kaji
"Hybrid perovskite solar cells fabricated from guanidine hydroiodide and tin iodide"
Scientific Reports, 7 (2017) 4969_1-6.
DOI: 10.1038/s41598-017-05317-w
3. Senku Tanaka, Tomohiro Otani, Ken Fukuzawa, Koji Ogawa, Junpei Azuma, Isamu Yamamoto, Kazutoshi Takahashi, Masao Kamada, Ichiro Hiromitsu"Anomalous photoelectric emission from Ag on zinc-phthalocyanine film"
Applied Physics Letters, 104 (2014) 193304_1-4.
DOI: 10.1063/1.4876956
Research and Achievements
Education
(Undergraduate Course)
Osaka City University
Education
(Master's/Doctral Course)
The Graduate University for Advanced Studies (SOKENDAI)
Title of Thesis, Institute, Date
"Surface Photovoltage in Semiconductors Studied with Photoelectron Spectroscopy Using Synchrotron Radiation and Laser" SOKENDAI, 2003.
Biography
2003-2004 Nagoya Univ. (Postdoc)
2004-2013 Shimane Univ.
2013- Kindai Univ.
Organic Electronics Laboratory
E-mail
senku(at)ele.kindai.ac.jp

Note that this e-mail address has replaced the "@" with "(at)" to prevent spam. When e-mailing, replace the "(at)" with "@".
Academic Staff and Fellows