Academic Staff and Fellows
NAKAYAMA Keizo

Lecturer Doctor of Enginnering
Department/Electric and Electronic Engineering 
We are advancing research to make practical application of the liquid crystal materials widely used in displays for optical security device and assist device in color discrimination for color vision defect.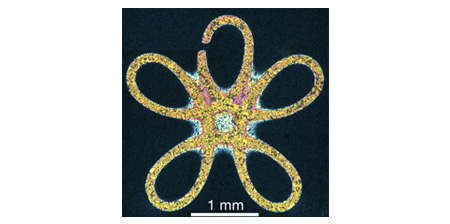 Patterning using Optical Texture in Liquid Crystal
Research Area
Liquid Crystals, Optics, Optical Security, Welfare Technology
Research Interests
Optical Security Device using Liquid Crystal, Assist Device in Color Discrimination using Liquid Crystal for Color Vision Defect
Selected Publications
(1) Proposal of Protocol for Construction of Light-Quality Tunable Illumination System using Polymer Dispersed Liquid Crystal, Journal of the Illuminating Engineering Institute of Japan, Vol.104, No.2, pp.76-81, (2020)
(2) Assist Device in Color Discrimination using Heilmeier Type Guest-Host Liquid Crystal for Red-Green Color Vision Defect, Electronics and Communications in Japan, Vol.102, No.8, pp.17-24 (2019)
(3) "High Quality Liquid Crystal Displays and Smart Devices Volume 2: Surface alignment, new technologies and smart device applications. Chapter 37: Optical Security Devices Using UV Curable Nematic Liquid Crystals" (March, 2019, IET)
Education
(Undergraduate Course)
BE from Nara National College of Technology
Education
(Master's/Doctral Course)
ME and DE from Osaka University
Optical Information and Optical Materials Laboratory
E-mail
keizo(at)ele.kindai.ac.jp

Note that this e-mail address has replaced the "@" with "(at)" to prevent spam. When e-mailing, replace the "(at)" with "@".
Academic Staff and Fellows