Academic Staff and Fellows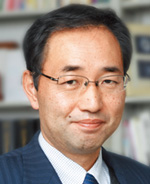 MAEDA Yoshinobu

Professor Doctor of Enginnering
Department/Electric and Electronic Engineering  Graduate school/Electronic Engineering
We are currently doing research on optical triodes needed in the field of optoelectronics to perform various types of signal processing using optical signals. In the future, our goal is to develop optical computers.
Study of All-optical triode wavelength converter
Research Area
Optoelectronics, Semiconductor Engineering
Research Interests
Optical Multicasting based on All-Optical Triode Wavelength Converter
Selected Publications
Negative Feedback Semiconductor Optical Amplifiers and All Optical Triode, Advances in Optical Amplifiers, published by INTECH, pp.231-252(2011).
Education
(Undergraduate Course)
Nagoya Institute of Technology
Optoelectronics Laboratory
E-mail
ymaeda(at)ele.kindai.ac.jp

Note that this e-mail address has replaced the "@" with "(at)" to prevent spam. When e-mailing, replace the "(at)" with "@".
Academic Staff and Fellows