Academic Staff and Fellows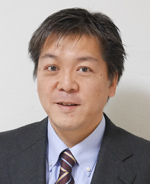 ARITOMO Yoshihiro

Associate Professor Doctor of Science
Department/Electric and Electronic Engineering  Graduate school/Electronic Engineering
Under the theme of utilizing energy from nuclear reactions, we have taken up the challenge of elucidating the dynamics of nuclear reactions. We are engaged in wide-ranging research on nuclear fusion and fission, transmutation, reprocessing, and synthesis of super-heavy elements.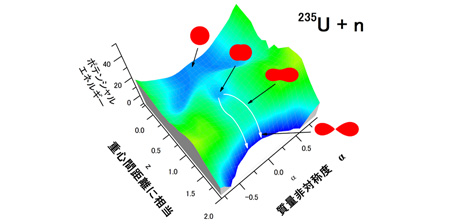 Potential energy surface of 235U+n
Research Area
Nuclear Engineering, Nuclear Reaction Theory, Synthesis of Super-Heavy Elements
Research Interests
Theoretical study for synthesis of superheavy elements、
Dynamical process of nuclear fission、
Analysis of fusion-fission mechanism、
Transfer reaction
Selected Publications
(1) Origin of the dramatic change of fission mode in fermium isotopes investigated using Langevin equations,
Phys. Rev. C 99, 051601(R) (2019)
(2) Effects of multichance fission on isotope dependence of fission fragment mass distributions at high energies,
Phys. Rev. C 100, 064605 (2019)
(3)  Estimation of synthesizing new superheavy elements using dynamical model, Physics of Atomic Nuclei (Ядерная физика) Volume 83, No. 2. (2020)
Education
(Undergraduate Course)
BS from Konan University
Education
(Master's/Doctral Course)
MS and DS from Konan University
Laboratory of Nuclear Reaction Energy
E-mail
aritomo(at)ele.kindai.ac.jp

Note that this e-mail address has replaced the "@" with "(at)" to prevent spam. When e-mailing, replace the "(at)" with "@".
Academic Staff and Fellows