Academic Staff and Fellows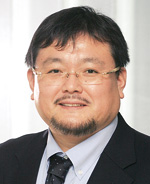 OHTSUBO Yoshikazu

Associate Professor Doctor of Engineering
Department/Mechanical Engineering  Graduate school/Mechanical Engineering
We have developed rescue robots to search for victims in underground shopping centers in the event of a disaster. We integrate a number of conventional robots having various features in order to develop a group robot system that can be remotely manipulated.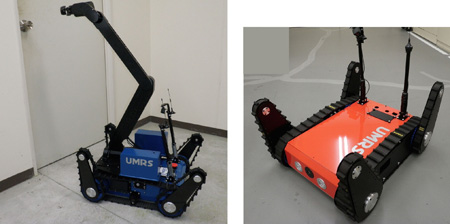 Mobile robot for search and rescue
Research Area
Mechatronics, Robotics, Rescue Engineering
Teaching (Undergraduate Course)
Synthetic Seminar 1&2, Exercises and Experiments of Control Engineering, Digital Circuit, Instrumentation Engineering, Mechatronics, Seminar for Bachelor Thesis, Individual Study for Bachelor Thesis, Experimental Works of Mechanical Engineering
Teaching (Graduate Course)
Robotics Integration, Advanced Research on Mechanical Engineering, Interdisciplinary Lecture in Mechanics III
Research Interests
Development of search and rescue tools/robots
Development of swarm robot
Development of instrumentation system based on biomimetics
Development of mobile robot with special mechanism
Selected Publications
(1The World Robot Summit disaster robotics category -achivements of the 2018 preliminary competition, Adcanced Robotics, Vol.33(17), pp.854-875, Jun 2019

(2) Group Control of Mobile Robots for More Efficient Searches -Verification of Semi-Autonomous Trajectory Tracking Motions in Irregular Ground Environment-, Journal of Robotics and Mechatronics, Vol.30(6),pp.980-990, Dec 2018

(3) Undergraduate-Student Teaching Materials for Mechatronics, Journal of Robotics and Mechatronics,   Vol.29(6), pp.1005-1013, Dec 2017
Research and Achievements
Affiliated Academic Societies
IEEE
Education
(Undergraduate Course)
BE from Kindai University
Education
(Master's/Doctral Course)
ME from Kobe University、
Doctorate by way of dissertation from Kobe Univeristy
Awards
・Best Late Breaking Report Award, IEEE International Symposium on Safety, Security, and Rescue Robotics (2017)
Mechatronics Laboratory
E-mail
ohtsubo(at)mech.kindai.ac.jp

Note that this e-mail address has replaced the "@" with "(at)" to prevent spam. When e-mailing, replace the "(at)" with "@".
Academic Staff and Fellows