Academic Staff and Fellows
IKEDA Atsutoshi

Lecturer Doctor of Engineering
Department/Mechanical Engineering 
We do research related to measuring and analyzing the "what" and "how" to understand various things in the real world. We develop systems that benefit society by using the knowledge gained in this way.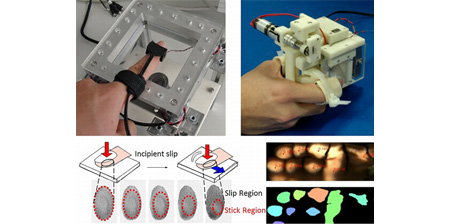 Haptic perception modeling and applied systems
Research Area
Sensing, Biomechanics, Applied Systems, Human Modeling
Research Interests
Analysis of human haptic processing, Measurement and quantitative evaluation of human motion, Assist system and evaluation method for rehabilitation, Sports training system
Selected Publications
(1) Yoshikazu Ohtsubo, Atsutoshi Ikeda, Kiyoshi Ioi, and Manabu Kosaka, "Undergraduate-Student Teaching Materials for Mechatronics, " Journal of Robotics and Mechatronics, Vol. 29, No.6, pp. 1005-1013, Dec. 2017.
(2) Yasuhide Yoshitake, Atsutoshi Ikeda, Minoru Shinohara, "Robotic finger perturbation training improves finger postural steadiness and hand dexterity," Journal of electromyography and kinesiology, Nov. 2017.
(3) Felix Von Drigalski,Atsutoshi Ikeda,Tsukasa Ogasawara,Tamim Asfour, "A measurement setup for the 3D validation of fingertip deformation models," International Journal of Human Factors Modelling and Simulation, Vol. 5, No. 3, pp. 230-237, Feb. 2016.
Education
(Undergraduate Course)
BE from Kagawa University
Education
(Master's/Doctral Course)
ME and DE from Nara Institute of Science and Technology
Sensing Research Laboratory
E-mail
ikeda(at)mech.kindai.ac.jp

Note that this e-mail address has replaced the "@" with "(at)" to prevent spam. When e-mailing, replace the "(at)" with "@".
Academic Staff and Fellows