Academic Staff and Fellows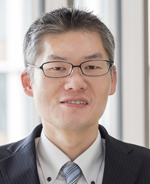 SOEJIMA Tetsuro

Lecturer Ph.D.
Department/Applied Chemistry  Graduate school/Molecular and Material Engineering
This laboratory is guided by the concepts of comfort in daily living and environmental cleanup. Our research is centered on the use of nanotechnologies to develop new synthesis methods for inorganic compounds as well as to derive new functionalities from a wide range of materials.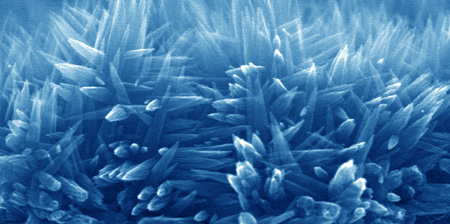 Synthesis of TiO2 Nanocoral Structures in Ever-Changing Aqueous Reaction Systems
Research Area
Inorganic Chemistry, Solid-State Chemistry, Nanomaterials, Photocatalyst
Research Interests
Development of synthetic methodology of gold and metal oxide nanocrystals, Photo-functional materials
Selected Publications
(1) One-pot alkaline vapor oxidation synthesis and electrocatalytic activity towards glucose oxidation of CuO nanobelt arrays, RSC Advances, Vol. 1, pp. 187-190 (2011).
(2) Synthesis of TiO2 Nanocoral Structures in Ever-Changing Aqueous Reaction Systems, Langmuir, Vol. 28, pp. 2637-2642 (2012).
(3) Growth of gold nanostructures on a Si wafer by concerted mechanisms of photoreduction and galvanic displacement, CrystEngComm, Vol. 18, pp. 6683-6688 (2016).
(4) Monodisperse manganese oxide nanoparticles: Synthesis, characterization, and chemical reactivity, Journal of Colloid and Interface Science, Vol. 510, pp. 272-279 (2018).
(5) TiO2 Nanocoral Structures as Versatile Substrates for Surface-Assisted Laser Desorption/Ionization Mass Spectrometry, ChemNanoMat, Vol. 5, pp. 447-455 (2019). VIP paper, Front cover.
Education
(Undergraduate Course)
BE from Kindai University
Education
(Master's/Doctral Course)
ME from Kindai University, Ph.D. from Kyushu University
Applied Inorganic Synthesis Laboratory
E-mail
soejima(at)apch.kindai.ac.jp

Note that this e-mail address has replaced the "@" with "(at)" to prevent spam. When e-mailing, replace the "(at)" with "@".
Academic Staff and Fellows