Academic Staff and Fellows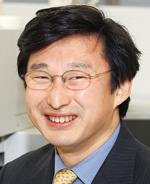 IWASAKI Mitsunobu

Professor Ph.D(Eng.)
Department/Applied Chemistry  Graduate school/Molecular and Material Engineering Innovative Engineering(兼担)
We make full use of environmentally friendly methods to fabricate artificial bone that enables fracture patients to live their lives as comfortably as possible. We are also actively involved in creating markers that enable the detection of even single cancer cells and colorants that change hue depending on the viewing angle.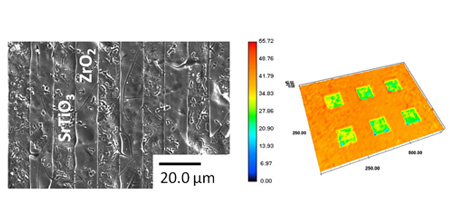 Periodically surface micorostructure (left: patterning SrTiO3/ZrO2, right: concaves on TiO2
Research Area
Inorganic Materials Chemistry
Research Interests
Fanctionalization of inorganic materials prepared by environmental friendly process: 1 Novel artifficial bones and their bioactivity, 2 Iinorganic nanophosphors, 3 Novel colorant materials, 4 Bionano sensors through biomimetic process
Selected Publications
(1)Newly Developed Biocompatible Material: Dispersible Titanium-Doped Hydroxyapatite Nanopaticles Suitable for Antibacterial Coating on Intravascular Catheters,Scientific Aspect of Dialysis Therapy, Karger, 2017,vol 189,pp 144-152 (2016).
(2) Influence of Amine as a Possible Substitute for
Hexamethylenetetramine on Plasma Electrolytic Oxidation of Al,Material Technology, 34(6), pp.177-182(2016) .
(3)Patterned ZrO2/MTiO3 (M = Ca, Sr, Ba) films in micrometer scale prepared by anodic oxidation of titanium under spark discharge., Vol.33(3) pp. 43-49(2015)
Research and Achievements
Education
(Undergraduate Course)
Tokyo Institute of Technology School of Engineering
Education
(Master's/Doctral Course)
Tokyo Institute of Technology Graduate School of Engineering
Laboratory of Inorganic Materials Chemistry
E-mail
m-iwa(at)apch.kindai.ac.jp

Note that this e-mail address has replaced the "@" with "(at)" to prevent spam. When e-mailing, replace the "(at)" with "@".
Academic Staff and Fellows