Academic Staff and Fellows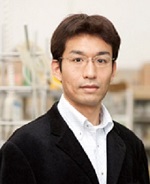 FUJISHIMA Musashi

Associate Professor PhD
Department/Applied Chemistry 
We are researching novel oxide-semiconductor–semiconductor bonded synthesis and its application to photocatalysis and photoelectrochemical cells.
Photoelectrochemical deposition of metal chalcogenide quantum dot on semiconducting oxide
Research Interests
Photoelectrochemistry of inorganic semiconductor thin films and theoretical study of electronic states and plasmon enhancement effect of solid materials
Selected Publications
(1) In Situ Shape Change of Au Nanoparticles on TiO2 by CdS Photodeposition: Its Near-Field Enhancement Effect on Photoinduced Electron Injection from CdS to TiO2, Musashi Fujishima・Takuya Ikeda・Ryo Akashi・Hiroaki Tada, ACS Omega, 3(6) (2018) 6104.
(2) Photo-effect on the electromotive force in two-compartment hydrogen peroxide-photofuel cell, Takumi Masuda・Musashi Fujishima・Hiroaki Tada,  Electrochemistry Communications, 93 (2018) 31.
(3) High Coverage Formation of CdS Quantum Dots on TiO2 by the Photocatalytic Growth of Preformed Seeds, Musashi Fujishima, Yasunari Nakabayashi, Kouichi Takayama, Hisayoshi Kobayashi, and Hiroaki Tada, J. Phys. Chem. C, 120 (2016) 17365.
E-mail
mfujishima(at)apch.kindai.ac.jp

Note that this e-mail address has replaced the "@" with "(at)" to prevent spam. When e-mailing, replace the "(at)" with "@".
Academic Staff and Fellows