Academic Staff and Fellows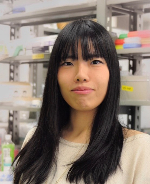 OTSUKA Airi

Assistant Professor
Department/Life Science 
Life Science

Social stress is a form of mental stress associated with human relationships that underlies the pathogenesis of mental disorders such as depression. We examine the effect of nutritional approach to social stress and explain the mechanism of reducing psychosocial stress by food.
Research Area
Nutrition, Food Functional Science, Physiology
Selected Publications
(1) Modification of Energy Metabolism and Higher Brain Function by Feeding Rhythm. Yakugaku Zasshi. 2018;138(10):1297-1304.
(2) Late feeding in the active period decreases slow-wave activity. Life Sci. 2016 Sep 1;160:18-26.
(3) Voluntary exercise and increased food intake after mild chronic stress improve social avoidance behavior in mice. Physiol Behav. 2015 Nov 1;151:264-71.
Education
(Undergraduate Course)
Tokushima University
Laboratory of Behavioral Genetics
E-mail
airi(at)life.kindai.ac.jp

Note that this e-mail address has replaced the "@" with "(at)" to prevent spam. When e-mailing, replace the "(at)" with "@".
Academic Staff and Fellows