Academic Staff and Fellows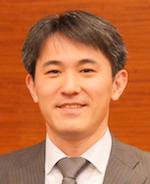 KAGAWA Nao

Associate Professor PhD of Fisheries Science
Department/Life Science  Graduate school/Science
What controls the wide range of behaviors we see in animals? Focusing on the genes that develop in the brain, the center of behavior, fish are used to conduct research into the mechanisms that control behavior.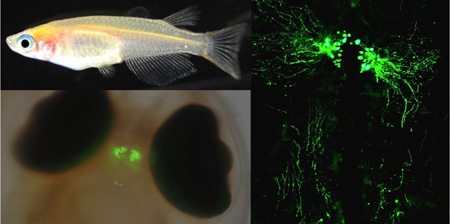 GFP expression in the avt-egfp transgenic medaka
Research Area
Fish Physiology, Behavioral Neuroendocrinology
Research Interests
1. Behavioral changes depend on social hierarchy in fish
2. Neuroendocrinological and genomic responses to social behaviors
3. Studies on molecular and behavioral response to stress
Selected Publications
​​​​​1)Otsuka, A., K. Shimomura, H. Niwa, N. Kagawa (2020) The presence of a conspecific induces risk-taking behaviour and enlargement of somata size of dopaminergic neurons in the brain of male medaka fish. J. Fsih Biol., DOI: 10.1111/jfb.14293

2)Otsuka, A., C. Nomura, K. Miura, A. Honda, N. Kagawa (2020) Immediate Early Gene Expression in Brain Regions Associated with the Social Behavioral Network After Male Competition in Medaka Fish. Zool. Sci., DOI:10.2108/zs200045

3) Kagawa, N., A. Honda, A. Zenno, R. Omoto, S. Imanaka, Y. Takehana, K. Naruse (2016) Arginine vasotocin neuronal development and its projection in the adult brain of the medaka. Neurosci. Lett., 613: 47–53.
Research and Achievements

See "Researchmap".

Education
(Undergraduate Course)
Hokkaido University(Faculty of Fisheries)
Education
(Master's/Doctral Course)
Hokkaido University(Graduate School of Fisheries Sciences)
Laboratory of Behavioral Genetics
E-mail
kagawa(at)life.kindai.ac.jp

Note that this e-mail address has replaced the "@" with "(at)" to prevent spam. When e-mailing, replace the "(at)" with "@".
Academic Staff and Fellows