Academic Staff and Fellows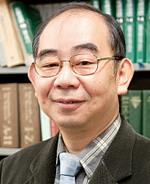 YAMAGIWA Yoshiro

Associate Professor Ph. D
Department/Science  Graduate school/Science
Developing methods to synthesize compounds that inhibit infection and replication of HIV (AIDS virus) and influenza viruses, and compounds that scavenge radicals (such as reactive oxygen species) that have been attracting attention in connection with aging, cancer, etc.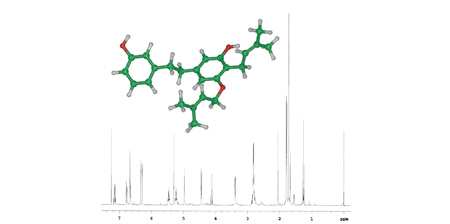 Structure and 1H NMR spectrum of synthesized antiHIV compound Glepidotin D
Research Area
Organic Chemistry, Bioactive Natural Products, Organic Synthesis
Research Interests
Synthesis of Radical Scavenger
Synthesis of HIV-1 Integrase Inhibitor
Synthesis of Sialidase Inhibitor
Synthesis of Fluorescent Alkaloid
Selected Publications
A new route to phenazines, Tetrahedron Lett., 2000, 41(3), 355-358.
Research and Achievements
Education
(Undergraduate Course)
Osaka City University
Organic Chemistry Laboratory
E-mail
yamagiwa(at)chem.kindai.ac.jp

Note that this e-mail address has replaced the "@" with "(at)" to prevent spam. When e-mailing, replace the "(at)" with "@".
Academic Staff and Fellows