Academic Staff and Fellows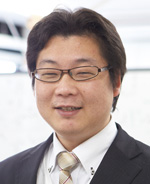 MORISAWA Yusuke

Associate Professor Ph.D Sci.
Department/Science  Graduate school/Science
Researching photo-physics based on fundamental spectroscopy research. Also developing analytical methods by observing spectra to extract information such as the attributes and amounts of a substance based on the interaction of the substance with light.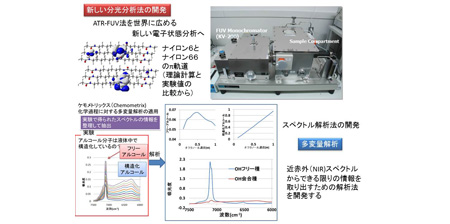 Development of novel "eye" using Spectroscopy
Research Area
Physical Chemistry, Molecular Science, Spectroscopic Analysis, Molecular Spectroscopy
Teaching (Undergraduate Course)
Synthetic Seminar 1、2、Chemical Information Processing、Instrumental Analysis、Applied Spectroscopy、Chemistry Laboratory Ⅲ、IV、Seminar for Bachelor Thesis、Individual Study for Bachelor Thesis
Teaching (Graduate Course)
Applied Spectroscopy, Molecular Spectroscopy, Ph.D. Exercises in Functional Molecular Chemistry,
Ph.D Study in Applied Spectroscopy
Research Interests
(1)Electronic States of Molecules in the Condesed Phase using Attenuated Toatal Reflection Spectroscopy in the Far-Ultraviolet Region (ATR-FUV)
(2)Analitical Chemistry using FUV spectroscopy
(3)Hydrogen-Bonding effect on the Absorption Intensity in the Near-Infrared (NIR) and THz Region
(4) Development of Chemometrix
Selected Publications
(1) Morisawa Y.; Tanabe I.; Ozaki Y.,"Advances in Far-Ultraviolet Spectroscopy in the Solid and Liquid States," in Frontiers and Advances in Molecular Spectroscopy Ed. Laane J.,Elsevier, 2017 (ISBN 9780128112205)
(2) Ueno N.; Wakabayashi T.; Sato H.; Morisawa Y."Changes in the Electronic Transitions of Polyethylene Glycol upon the Formation of a Coordinate Bond with Li+, Studied by ATR Far-Ultraviolet Spectroscop." J. phys. Chem. A, 2019, 123(50) 10746-10756. 
(3) Czarnecki, M. A.; Morisawa, Y.; Futami, Y.; Ozaki, Y., "Advances in Molecular Structure and Interaction Studies Using Near-Infrared Spectroscopy." Chem. Rev. 2015, Vol. 115, p.p. 9707-9744.
Research and Achievements
Affiliated Academic Societies
Chemical society of Japan, Japan Society for Analytical Chemistry, Spectroscopical Society of Japan、Japan Society for Molecular Science
External Activity
Associate Editor of Analytical Sciences,
Education
(Undergraduate Course)
School of Science, Kwansei Gakuin University
Education
(Master's/Doctral Course)
Department of Chemistry, Graduate School of Science, Kyoto University
Title of Thesis, Institute, Date
"Spectroscopic Study of Some Chemically Significant molecules in Molecular Clouds", Kyoto University, Kyoto, Japan, 2005, Thesis
Biography
Institute for Atomic and Molecular Sciences, Academia Sinica, Taiwan(Postdoctoral fellow,2005-2008)、
Kwansei-Gakuin Univ. (Postdoctoral fellow,2008-2012)、
Kindai Univ. (Lecture 2012-2015, Associate Professor 2015- present)、 Research institute of Bio-cokes (concurrent 2016- present)
Applied Spectrsocopy Laboratory
E-mail
morisawa(at)chem.kindai.ac.jp

Note that this e-mail address has replaced the "@" with "(at)" to prevent spam. When e-mailing, replace the "(at)" with "@".
Academic Staff and Fellows