Kinki University Students Work with Local Paper Company to Create a New Children's Toy
As part of the tightening of relations between industry and academia, Kinki University professor of fine arts, Okamoto Kiyofumi, collaborated with Matsuda Paper Company during his spatial design seminars to manufacture an environmentally friendly cardboard toy - an exercise which also enabled his students to engage in highly beneficial Project-based Learning (PBL).
Ideas from his students and technology from Matsuda Paper Company came together to create a build-it-yourself play object, the Twinkle Tent. Large-scale handicrafts speciality store ABC Craft Ltd. and other retailers have been selling this product since December 15th, 2014.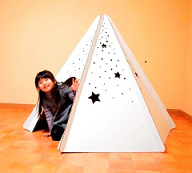 The tent is a build-it-yourself toy which can be used for indoor play. It is easy to recycle, light-weight, and made from reinforced cardboard for safety. It also comes in various sizes, ranging from 3 to 6 sides. The standard price for the Twinkle Tent, which is targeted at infants to lower primary school children, is 5,900 Yen excluding tax.
Upon entering the tent, light shines in from tiny holes in the walls, making it seem to children like a planetarium or some other fantastical space. The outside can be painted in the customer's own original design, and it is easy to fold and store away in the corner of a room. The biggest selling point of this new piece of play equipment is that it nurtures children's imagination and develops their sense of spatial awareness.
On Saturday December 20th 2014, Kinki University students held a sales event in Abeno Harukas' Manabo Studio in order to promote their product. The event featured various cardboard tent experiences, a Christmas tree made from tents, and fun drawing activities for the children to enjoy.
Established in 1958, the Matsuda Paper Company has continued to produce cardboard boxes and printing paper for 56 years, and currently employs 26 people. As a result of the Great East Japan Earthquake, this veteran corporation has recently poured its efforts into developing and selling emergency disaster supplies, as well as goods aimed at the general consumer. Over the past few years, Matsuda Paper Company has proven its worth to the local community through its numerous awards, which include an award of excellence in the East Osaka Responsible Business Prize in 2013, and the East Osaka Mayor's Prize for aid work in the Tohoku region in 2012.