Researchers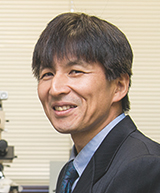 NONOMURA Teruo

Professor/Manager
| | |
| --- | --- |
| Faculty | Department of Agricultural Science / Graduate School of Agriculture / Agricultural Technology and Innovation Research Institute |
| Researchmap | https://researchmap.jp/read0194025 |
Education and Career
Academic & Professional Experience
Apr. 2016 - Today , Kindai University Faculty of Agriculture Professor
Research Activities
Research Areas
Environmental science/Agricultural science, Conservation science (plants)
Environmental science/Agricultural science, Conservation science (plants)
Research Interests
植物病理, Plant Pathology
Published Papers
Fungi Parasitizing Powdery Mildew Fungi: Ampelomyces Strains as Biocontrol Agents against Powdery Mildews
Márk Z. Németh; Diána Seress; Teruo Nonomura
Agronomy 13 (8) , 1991-, 27, Jul. 2023 , Refereed
Hyperparasitic Fungi against Melon Powdery Mildew Pathogens: Quantitative Analysis of Conidia Released from Single Colonies of Podosphaera xanthii Parasitised by Ampelomyces
Yutaka Kimura; Márk Z. Németh; Kana Numano; Asami Mitao; Tomomi Shirakawa; Diána Seress; Yoshihiro Takikawa; Koji Kakutani; Yoshinori Matsuda; Levente Kiss; Teruo Nonomura
Agronomy 13 (5) , 1204-1204, 24, Apr. 2023 , Refereed
Real-Time Collection of Conidia Released from Living Single Colonies of Podosphaera aphanis on Strawberry Leaves under Natural Conditions with Electrostatic Techniques
Shuka Ayabe; Yutaka Kimura; Naoki Umei; Yoshihiro Takikawa; Koji Kakutani; Yoshinori Matsuda; Teruo Nonomura
Plants 11 (24) , 3453-3453, 9, Dec. 2022 , Refereed
Books etc
静電気技術を用いたイチゴうどんこ病菌単一菌叢からの胞子回収と生涯胞子放出数の測定・解析 , 野々村照雄 , 植物防疫 , Jul. 2023
うどんこ病とは|バラやキュウリなど多種多様な植物で発生する病気の原因・治療法・対策 , 野々村照雄 , WEBマガジン「となりのカインズさん」 , Apr. 2023
新種苗 , 野々村照雄 , プロに聞く!イチゴうどんこ病 , プロに聞く!イチゴうどんこ病 , 株式会社大和農園通信販売部 , Aug. 2020
Conference Activities & Talks
Effects of fungicides on developments of a strawberry powdery mildew isolate , Mitao, A; Takahara, A; Matsuda, Y; Nonomura, T , 令和5年度 日本植物病理学会関西部会 , 23, Sep. 2023
Quantitative analysis of lifelong production of conidia released from single colonies of Podosphaera aphanis on strawberry leaves with electrostatic techniques , 木村豊; 綾部萩佳; 松田克礼; 野々村照雄 , 令和4年度 日本菌学会第66回大会 , 27, Aug. 2022
Effects of light quality on conidial releases from conidiophores of melon powdery mildew fungus Podosphaera xanthii , 岩﨑章太; 木村豊; 松田克礼; 野々村照雄 , 令和3年度 日本菌学会第65回大会 , 24, Aug. 2021
MISC
Defence responses of Aphanoregma patens (Hedw.) Lindb. to inoculation with Pythium aphanidermatum (vol 37, pg 1, 2015) , Yoshihiro Takikawa; Satomi Kida; Fuji Asayama; Teruo Nonomura; Yoshinori Matsuda; Koji Kakutani; Hideyoshi Toyoda , JOURNAL OF BRYOLOGY , 37 , 3 , 250 , 250 , Sep. 2015
Analysis of whitefly longevity aiming at the establishment of simple experimental systems for studying anti-aging mechanisms , 瀧川 義浩; 坂本 純一; 松田 克礼; 野々村 照雄; 豊田 秀吉; 角谷 晃司 , Memoirs of Institute of Advanced Technology, Kinki University , 20 , 43 , 48 , Mar. 2015
Summary:[要旨] 本研究は, アンチエイジング解析を目的として, タバココナジラミを使用した寿命評価システムの確立について検討した. すなわち, 異なる寄主植物であるインゲンとキャベツで飼育したタバココナジラミの寿命について, 成虫の生存率が100% を下回る時期(ポイントA ), 50% ならびに0% に到達した時期(ポイントB およびC)の飼育日数を調査したところ, 幼虫期の環境より, むしろ成虫期における飼育環境がタバココナジラミの生存に影響を及ぼす傾向が認められ, 本システムの利用の有効性が確認された. [Abstract] In the present study, we described that whitefly was suitable to study anti-aging mechanisms. Moreover, we examined point A, B and C represent the days showing the survival rates of 100, 50 and 0%. In comparative analysis of survivability of the whitefly on different combinations of host plants before and after emergence and stage I and II, there was difference in the test points between pea bean and cabbage seedlings in adult stage.近畿大学先端技術総合研究所紀要編集委員会
Polymorphic change of appressoria by the tomato powdery mildew Oidium neolycopersici on host tomato leaves reflects multiple unsuccessful penetration attempts , Teruo Nonomura; Ayae Nishitomi; Yoshinori Matsuda; Chiyomi Soma; Ling Xu; Koji Kakutani; Yoshihiro Takikawa; Hideyoshi Toyoda , FUNGAL BIOLOGY , 114 , 11-12 , 917 , 928 , Nov. 2010
Summary:The appressorial shapes of the powdery mildews are an important clue to the taxonomy of the powdery mildew fungi, but the conidia of the tomato powdery mildew Oidium neolycopersici KTP-01 develop non-lobed, nipple-shaped, and moderately lobed or multilobed appressoria on the same leaves. To remove this ambiguity, we performed consecutive observations of sequential appressorial development of KTP-01 conidia with a high-fidelity digital microscope. Highly germinative conidia of KTP-01, collected from conidial pseudo-chains formed on the tomato leaves, were inoculated into host tomato and nonhost barley leaves or an artificial hydrophobic membrane (Parafilm). Events from germination initiation to appressorium formation were synchronous in all conidia on all materials used for inoculation, but post-appressorial behaviors varied among the materials. Appressoria on the membrane-stuck glass slide formed several projections at different portions of the appressoria to repeat unsuccessful penetration attempts. Similar unsuccessful penetration behavior by KTP-01 conidia was observed in the inoculations into leaves of barley plants, wild tomato species Lycopersicon peruvianum LA2172 (carrying the Ol-4 gene for powdery mildew resistance), and a susceptible host tomato (Lycopersicon esculentum) that had been inoculated with the barley powdery mildew (Blumeria graminis f. sp. hordei, race 1) conidia. On the barley leaves, all penetrations of KTP-01 were impeded by the papillae formed beneath the sites of the appressorial projections. On both the wild tomato and the race 1-inoculated cultivated tomato plants, KTP-01 conidia were prevented from forming functional haustoria by hypersensitive epidermal cell death; this hypersensitive reaction involved the Ol-4 gene in the wild tomato plants or the 'induced resistance' acquired by the nonpathogenic conidia previously inoculated into the cultivated tomato plants. All these KTP-01 conidia produced several projections on the appressoria during the repeated unsuccessful penetration attempts and eventually exhibited multilobed appressoria. On the host tomato leaves inoculated singly with KTP-01 conidia, fewer than 20 % of the conidia located appressoria on the central part of target epidermal cells and succeeded in forming functional haustoria at the first penetration attempt without forming an appressorial projection. These conidia exhibited non-lobed appressoria. The remaining conidia, however, whose appressoria were located on/near the border of the target epidermal cells, were more likely to fail to penetrate at the first penetration, and then to develop additional projections for subsequent penetrations. Most conidia succeeded in forming functional haustoria at the second to fourth penetration attempts, but a few conidia failed to produce haustoria at all attempted penetrations. Eventually, the conidia that succeeded at the second penetration possessed a single appressorial projection (exhibiting the nipple-shaped appressoria), whereas the remaining conidia exhibited moderately lobed appressoria with two to four appressorial projections and multilobed appressoria, with more projections. Thus, the present study revealed that the basic shape of appressoria of KTP-01 was the non-lobed type, and that polymorphic changes of the appressoria occurred as a result of successive production of projections during repeated unsuccessful penetration attempts. (C) 2010 The British Mycological Society. Published by Elsevier Ltd. All rights reserved.
Patents
微小粒子状物質捕捉装置 , 松田克礼, 角谷晃司, 野々村照雄, 瀧川義浩, 豊田秀吉, 草刈眞一, 岡田清嗣, 柴尾学, 松本吉雄, 美山和宏, 園田隆博 , 特許第7146186号
害虫防除用静電場スクリーン , 松田克礼, 角谷晃司, 野々村照雄, 瀧川義浩, 豊田秀吉, 草刈眞一, 岡田清嗣, 柴尾学, 松本吉雄, 美山和宏, 園田隆博 , 特許第7090276号
静電殺虫方法及び静電殺虫装置 , 松田克礼, 角谷晃司, 野々村照雄, 瀧川義浩, 豊田秀吉, 草刈眞一, 岡田清嗣, 柴尾学, 松本吉雄, 美山和宏, 園田隆博 , 特許第6796605号
Research Grants & Projects
Japan Society for the Promotion of Science, Grants-in-Aid for Scientific Research Grant-in-Aid for Young Scientists (B), トマト葉高率分離細菌の動的葉面定着性機構に関する分子生物学的解析 , Kindai University
標識遺伝子による┣DBFusarium(/)-┫DB ┣DBoxysporum(/)-┫DBの形質転換とその挙動解析に関する研究
Basic studies on transformation of ┣DBFusarium(/)-┫DB ┣DBoxysporum(/)-┫DB and establishment of monitoring system