Researchers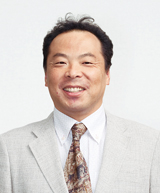 AZUMA Yoshinao

Professor/Assistant Dean/Manager
Education and Career
Academic & Professional Experience
Apr. 2017 - Today , Kindai University Molecular Biochemistry Lab, Faculty of Biology-Oriented Science and Technology, Professor
Apr. 2010 - Mar. 2017 , Kindai University Faculty of Biology-Oriented Science and Technology, Department of Science and Technology on Food Safety 准教授
Jun. 2005 - Mar. 2010 , Yamaguchi University School of Medicine Department of Microbiology 講師
Apr. 2001 - May. 2005 , Yamaguchi University School of Medicine Department of Microbiology 助手
May. 1997 - Mar. 2001 , The National Institute of Advanced Industrial Science and Technology (AIST) 生命工学工業技術研究所 研究員
Apr. 1994 - Apr. 1997 , University of California, Irvine, USA Prof. Masayasu Nomura's Laboratory Postdoctoral Fellow
Apr. 1991 - Mar. 1994 , Graduate University for Advanced Studies Prof. Akira Ishihama's Lab., National Institute of Genetics 大学院生(博士課程後期)
Apr. 1990 - Mar. 1991 , Graduate University for Advanced Studies Prof. Akira Ishihama's Lab., National Institute of Genetics 研究生
Apr. 1989 - Mar. 1990 , Bristol-Myers Squibb Research Institute, Tokyo Research Associate
Apr. 1985 - Mar. 1989 , Kyoto University Faculty of Agriculture 学部生
Research Activities
Research Areas
Life sciences, Bacteriology
Life sciences, Genomics
Life sciences, Molecular biology
Life sciences, Evolutionary biology
Life sciences, Applied microbiology
Research Interests
Microbiology, genome, infectious disease, intracellular parasite, Chlamydia, Acetic Acid Bacteria, Halomonas, Plasmodiophora, arteriosclerosis, Clubroot disease, PHB, Biodegradable Bioplastics
Published Papers
Continuous antimicrobial mechanism of dispersible hydroxyapatite nanoparticles doped with zinc ions for percutaneous device coatings
Mari Oshita; Koji Umeda; Minami Kataoka; Yoshinao Azuma; Tsutomu Furuzono
Journal of Biomaterials Applications , 088532822211088-088532822211088, 16, Jun. 2022 , Refereed
Establishment of genetic tools for genomic DNA engineering of Halomonas sp. KM-1, a bacterium with potential for biochemical production
Ayaka Tsuji; Yasuko Takei; Yoshinao Azuma
Microbial Cell Factories 21 (1) , 122-122, Jun. 2022 , Refereed
Chlamydia pneumoniae is prevalent in symptomatic coronary atherosclerotic plaque samples obtained from directional coronary atherectomy, but its quantity is not associated with plaque instability: an immunohistochemical and molecular study
Tomoyuki Otani; Kensaku Nishihira; Yoshinao Azuma; Atsushi Yamashita; Yoshisato Shibata; Yujiro Asada; Kinta Hatakeyama
Clinical Pathology 15 , 2632010X2211251-2632010X2211251, 2022 , Refereed
Books etc
醸造の事典 = Encyclopedia of jozo , 北本, 勝ひこ; 大矢, 禎一; 後藤, 奈美; 五味, 勝也; 高木, 博史 , 朝倉書店 , Jun. 2021
ウイルス図鑑 , 新居 志郎 , 病原性遺伝子とその発現制御 , 病原性遺伝子とその発現制御 , 北海道大学出版会 , Nov. 2017
第10章 細胞内寄生性細菌とクラミジアの培養 , 東 慶直 , 「微生物増殖学の現在・未来」p265〜281 福井作蔵編 地人書館 , 2008
Conference Activities & Talks
Development of Genetic Tools for Promising Halomonas Using A Novel Isolate , Ayaka Tsuji; Yasuko Takei; Taku Nishimura; Yoshinao Azuma , Symposium in 34th JSME meeting , 2, Nov. 2021
Microbial protein that is toxic to apple snails and mosquito larvae , So TAKEBE; Shinya KISSO; Yoshinao AZUMA; Tohru HAYAKAWA , 日本農芸化学会2021年度大会 , Mar. 2021
形状の異なるフッ素置換ナノアパタイトの調製と骨芽細胞増殖性評価 , 馬本 和奈; 東 慶直; 古薗 勉 , 第58回日本人工臓器学会大会 , Nov. 2020
MISC
抗感染性カテーテルに応用可能な生体必須イオン置換型ナノマテリアルの開発 , 片岡 美波; 東 慶直; 古薗 勉 , 人工臓器 , 50 , 2 , S , 161 , Oct. 2021
Preparation and evaluation of an antibacterial coating of Zinc-doped hydroxyapatite on a fabric , Kataoka Minami; Azuma Yoshinao; Furuzono Tsutomu , Transactions of Japanese Society for Medical and Biological Engineering , Annual59 , Abstract , 561 , 561 , 2021
Summary:Recently, Zinc-doped hydroxyapatite (Zn-HAp) nanoparticles have been developed aiming at an antibacterial-coating nanomaterial. In this study, Zn-HAp coated non-woven poly(L-lactic acid)(PLLA) fabrics were prepared and evaluated the antibacterial activity for the fabric to improve the reproducibility of the activity instead of the coated sheet. The dispersed Zn-HAp nanoparticles were prepared by a wet chemical method and calcined by an anti-sintering method. The Zn-HAp were coated on the PLLA fabric treated by an alkali solution. The antibacterial evaluation was carried out by contacting the coated fabric with E. coli. suspension. The Zn-HAp nanoparticles (12.5% of Zn-substitution ratio) were obtained and almost uniformly coated on a PLLA fabric through ionic interaction, showing approximately 80% of the surface coverage ratio. The antibacterial activity of the Zn-HAp-coated fabric was significantly higher than that of the non-coated one. Therefore, it was thought that increasing the contact area against the bacteria was effective for the evaluation.
Establishment of ZIKVE protein - expressing yeast strain for development of oral mucosal vaccine , Sakaguchi Hisatoshi; Tsuji Ayaka; Azuma Yoshinao; Masaki Hideyuki; Kato Nobuhiro , Transactions of Japanese Society for Medical and Biological Engineering , Annual59 , Abstract , 464 , 464 , 2021
Summary:Zika virus (ZIKV) is transmitted by Aedes aegypti, and has an aspect of STD pathogen. Its intrauterine infection causes microcephaly. Envelope (E) protein induces protective immunity. The mucosa is the front - line to foreign substances and microorganisms, and a mucosal immune tissue called mucosal - associated lymphoid tissue (MALT) exists. Therefore, immunization onto the gastrointestinal mucosa is expected to induce strong mucosal immunity with the IgA antibody in the mucus even in the reproductive organs. Yeast is a microorganism that exists in human gastrointestinal tract. It is very safe and applicable as a host for the expression of recombinant proteins. Thus, using yeast as a vaccine antigen is promising. Therefore, in this study, we try to establish a yeast strain that expresses ZIKVE protein on the cell surface to use as a mucosal vaccine antigen that induces protective immunity to the genital mucosa by oral immunization.
Patents
耐熱性微生物の作製方法 , 赤田倫治, 星田尚司, 山田守, 村田正之, 高坂智之, 松下一信, 薬師寿治, ナンタポン・ナワラート, 東慶直 , 特許特許第6474063号
ハイドロキシアパタイト誘導体粒子群 , 古薗 勉, 東 慶直, 小粥 康充, 河邉カーロ和重
融合微生物及びその融合微生物を用いた発酵産物の製造方法 , 東 慶直, 波多野 裕美
Research Grants & Projects
JST戦略的創造研究推進事業 先端的低炭素化技術開発(ALCA), 低炭素化に資する発酵微生物のゲノム育種およびゲノム工学的「耐熱化」
株式会社えがお, 新規黒酢の開発と黒酢有効成分の探索に関する共同研究
科学研究費補助金 基盤研究(C), クラミジア感染におけるアポトーシス因子Apaf-1とCaspase-9の機能解析