Professor Richard J. Kelly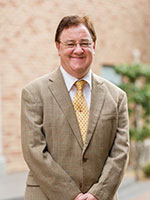 Richard J. Kelly

Professor Richard J. Kelly joined the Faculty of Literature, Arts and Cultural Studies from Kobe University. He is the author of several books and academic publications, and is a recognized authority on the linguistic and cultural development of the English language. He also has a keen interest in issues of social justice and how they have been dealt with and articulated down through the ages to the present time. He is the co-author of You're History! How People Make the Difference (Bloomsbury: London and New York, 2005). This project was initiated by the rock musician and founder of Live Aid, Sir Bob Geldof, who penned its Foreword. The book contains contributions from such well-known public figures as John Simpson, World Affairs Editor of the BBC, and Richard Curtis, film director/producer of Four Weddings and A Funeral' and Notting Hill.
The CROSSINGS Project, initiated by Professor Richard J. Kelly, celebrates 60 years of diplomatic relations between Japan and Ireland in 2017. CROSSINGS is dedicated to Lafcadio Hearn, and will include contributions from Bon Koizumi, Great Grandson of Lafcadio Hearn, and Marie Heaney, wife of the Nobel Laurate for literature (1995), Seamus Heaney (1939-2012). The work will be published by Cork University Press (CUP) in 2017 – Ireland's Oldest Academic Publishing House. The CROSSINGS Project is formally endorsed by the Ambassador of Ireland to Japan, Her Excellency Anne Barrington, and by the Ambassador of Japan to Ireland, Her Excellency Mari Miyoshi.

Principal Publications:

1) Stone, Skin and Silver – A Translation of the Dream of the Rood. (Litho Press: Cork / Sheed and Ward: London, 1999; revised edition and E-book 2014) (Co-authored).
2) An Anglo-Saxon Miscellany (Kenkyusha Publishers: Tokyo, 2001) (Co-authored).
3) 'The Land of Cokaygne –– Modern English Version/Contexts.' Journal of Irish Studies 16 (2001): 52-75.
4) The Blickling Homilies: Edition and Translation (Bloomsbury: London and New York, 2003).
5) You're History! How People Make the Difference. (Bloomsbury: London and New York, 2005) (Co-authored).
6) The Blickling Concordance (Bloomsbury: London and New York, 2009).
7) 'The Diary of Richard Smiddy (1840-1875): Scholar and Philanthropist' in Killeagh Through the Ages (Litho Press: Cork, 2011): 127-140.
8) CROSSINGS – Celebrating 60 years of Diplomatic Relations between Japan and Ireland (Cork University Press: forthcoming 2017) (co-authored).

Main Research Interests:

medieval literatures, in particular the Christian prose and poetry of the Anglo-Saxon period (mid 5th to early 12th century); Arthurian Legend; English lexicography; linguistics & sociolinguistics; and issues of Human Rights as they are articulated in literature, especially in the writings of Jonathan Swift.

A Message to Prospective Students:

My educational method is to teach living English from the Anglo tradition. Culture and language are integrally combined; therefore, special emphasis is given to instructing students using interesting and stimulating content that motivates them to be an active part of the learning process. My overall educational goal is to equip students with the necessary skills to effectively use English in the contemporary world. Our tutorial teaching method is what makes us a very unique and friendly Department in the context of Japanese universities – enjoy the world of the English language and culture with our dynamic academic team.
Professor Hiroyasu Fujisawa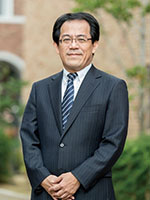 Main Research Area:

Shakespeare and Elizabethan Lyric Poetry Major

Major Publications:

1) Shakespeare's Later Plays and the Representations of Social Strata
PhD Thesis submitted to Hiroshima University.
2) "Does Othello stabb his throat?:A Short History of the Moor's Suicide Scene in Japanese and European Stage"
The Horizon of English Literature(Co-authored, 2009)
3) "Viewed from Janus' eyes: The Merchant of Venice and the Nascent Stage of the Middling Sort of People"
Hiroshima Studies in English Language and Literature Vol. 51 (2006).
Professor Kazuhiko Tsuji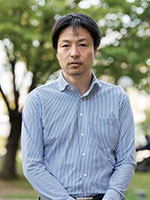 Main Research Area:

American Literature and Culture

Major Publications:

Beyond the Phelps Farm: Mark Twain and the Nineteenth Century America (Keisuisya, 2001).
The Devil and the Harp: Edgar Allan Poe and the Nineteenth Century America (With Ikesue Yoko, Otowasyobo-Turumisyoten, 2008).
"The Worth of Purity: On Mark Twain's 'Wapping Alice'" (Journal of Mark Twain Studies, 2009).

A Message to Prospective Students:

Take time by the forelock, for she is bald behind.
Associate Professor Akemi Yoshida

Main Research Area:

Late Victorian Fiction

Major Publications:

1) "Is Evelyn Innes (1898) a Literary Daughter of George Sand's Consuelo (1843)?" Michel Brunet, Fabienne Gaspari, and Mary Pierse Eds. George Moore's Paris and his Ongoing French Connections (Peter Lang, 2015), 153-172.
2) "Stanley Makower's Contribution to the 'Woman Composer' Question: A Reading of The Mirror of Music (1895)." New Directions 33 (2015), 33-58.
3) "Voice and Presence in Callas Forever." Poetica 79 (2013), 91-100.

A Message to Prospective Students:

If you are facing difficulty choosing a single academic area to specialize in at university, then our department would be the right place for you! Boasting of offering various, highly interdisciplinary contents and opportunities, we encourage our students to pursue their interests freely in more than one discipline. You can learn English literature along with art history, archaeology, and many other things and then merge them all together in your own unique way, for example. Be greedy about learning; don't be afraid to be academically innovative—there are staff here willing to support your ambitious projects!
Lecturer Fumihisa Fujinaga
Main Research Area:

English Education

Major Publications:

1) Fujinaga, F. (2016). An evaluation of oral reading fluency among EFL students and its relation to reading comprehension. Sojitsu kenkyukiyo, 50, 19-25.
2) Fujinaga, F. (2015). Teaching reading and listening. In Nakano, M.(ed.) Research and Practice in English Language Education, pp.104-148. Keisuisha [published in Japanese].
3) Fujinaga, F. (2013). Oral and silent reading comprehension of different levels of text information among EFL readers. Proceedings of the 18th Conference of Pan-Pacific Association of Applied Linguistics [CD-ROM].

A Message to Prospective Students:

The study of English language and literature will surely broaden your horizons and enrich your experience as a student here at Kindai University.
Lecturer Yuki Matsumoto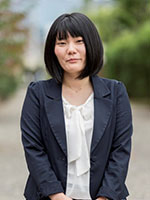 Main Research Area:

American Literature, Asian American Studies, and Gender Studies

Publications:

1) "Rethinking Early Asian American Literature." AALA Journal 20, December 2014: pp.37-41.
2) "Looking for "America": The Travelling Exile and the Immigrant in East Goes West." AALA Journal 19, December 2013: pp.63-76.
3) "Border Crossing in Mrs. Fragrance and Other Writings by Sui Sin Far: In Borderlands between Europe and Asia and between America and Canada." Journal of Language and Culture 19. 2010: pp41-51. (Japanese)

A Message to Prospective Students:

The English Language and Literature major offers many different classes for students who are interested in literature, language, culture, and education.