Faculty and Researchers
Environment, Civil Engineering, and Architecture
Transportation
An introduction to faculty staff members and laboratories in the Transportation.
Note: Information on the laboratories is current as of the 2020 academic year. There may be changes to this information in the 2021 academic year.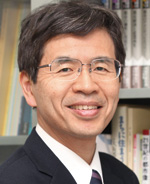 Position

Professor

Laboratory

Urban Management Laboratory
Transport Planning, Urban Planning, Regional Planning
We are working broadly on urban management in an aging society and low-carbon society from both a theoretical and practical perspective. In particular, we are studying town planning by the residents themselves that applies urban management techniques.