Academic Staff and Fellows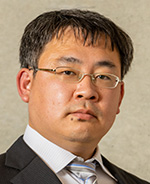 TANIGUCHI Yoshiaki

Associate Professor Ph.D
Department/Informatics  Graduate school/Electronic Engineering
We study methods to efficiently operate sensor network systems consisting of a large number of communication devices that sense people and things, and we are actively conducting research on their application.
Research Area
Information networks
Sensor networks
Research Interests
Wireless sensor networks
Selected Publications
(1) A uniform airdrop deployment method for large-scale wireless sensor networks, International Journal of Sensor Networks (2011).
(2) Tandem equipment arranged architecture with exhaust heat reuse system for software-defined data center infrastructure,  IEEE Transactions on Cloud Computing (2017).
(3) A desynchronization-based data gathering mechanism for a fish farm monitoring environment, IEICE Transactions on Fundamentals (2017).
Affiliated Academic Societies
IEEE
IEICE
IPSJ
IEEJ
Education
(Undergraduate Course)
Osaka University
Education
(Master's/Doctral Course)
Osaka University
Title of Thesis, Institute, Date
Self-Adaptive Communication Mechanisms for Cooperative Information Networks, Osaka University, Sep. 2008.
 
Biography
Assistant Professor at Osaka University (2008-2014)
Lecturer at Kindai University (2014-2018)
Associate Professor at Kindai University (2018-)
Awards
UBICOMM 2009 Best Paper Award (2009)
AICT 2011 Best Paper Award (2011)
CSS 2012 Best Paper Award (2012)
IEEE GCCE 2015 Student Paper Award (2015)
TCJ Best Instructor Award (2016-2019)
IPSJ Senior Member (2016)
IEEE Senior Member (2017)
IEEE Kansai Section Medal (2018)
Intelligent Communication Network Laboratory
Office Location
38-N305
E-mail
y-tanigu(at)info.kindai.ac.jp

Note that this e-mail address has replaced the "@" with "(at)" to prevent spam. When e-mailing, replace the "(at)" with "@".
Academic Staff and Fellows