Academic Staff and Fellows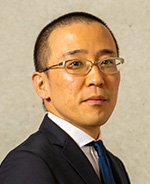 Kimiaki Shirahama

Associate Professor Doctor of Engineering (D.E.)
Department/Informatics 
Our research goal is to extract semantic information (e.g., objects, activities, scenes, events, etc.) from multimedia data. Our main approach to this is to analyse patterns, relations and anomalies underlying in different forms of data (e.g., image, video, audio, text, etc.).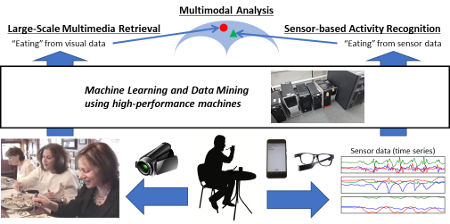 Three main topics in my multimedia understanding research
Research Area
Multimedia Information Processing, Machine Learning, Data Mining, Human Activity Recognition
Teaching (Undergraduate Course)
Machine Learning, Digital Signal Processing
Teaching (Graduate Course)
Multimedia Understanding
Research Interests
Large-scale Video Retrieval
Image-/Video-based Concept Detection (Recognition of Objects, Activities, Scenes, Events, etc.)
Sensor-based Human Activity Recognition
Multimodal Analysis
Selected Publications
(1) Example-based 3D Trajectory Extraction of Objects from 2D Videos, IEEE Transactions on Circuits and Systems for Video Technology, Vol. 28, No. 9, pp. 2246-2260, 2018 (Project page)
(2) Comparison of Feature Learning Methods for Human Activity Recognition using Wearable Sensors, Sensors, Vol. 18, No. 2, Article No. 679, 2018 (Codes and datasets)
(3) Sergey Kosov, Kimiaki Shirahama, Chen Li and Marcin Grzegorzek: Environmental Microorganism Classification Using Conditional Random Fields and Deep Convolutional Neural Networks, Pattern Recognition, Vol. 77, pp. 248-261, 2018 (Codes and dataset)
Research and Achievements
Affiliated Academic Societies
The Institute of Image Information and Television Engineers in Japan (ITE), Information Processing Society of Japan (IPSJ), Institute of Electronic, Information and Communication Engineering in Japan (IEICE), ACM SIGKDD, ACM SIGMM
External Activity
ACM Multimedia 2019 Program Committee, CSII 2019 Co-publicity chair, ITIB 2019&2018 Program Committee, ICIS 2016 Program Committee, MMEDIA 2015&2016 Technical Program Committee, ICIS 2016 Program Committee
Education
(Undergraduate Course)
Kobe University
Education
(Master's/Doctral Course)
Kobe University
Title of Thesis, Institute, Date
Intelligent Video Processing Using Data Mining Techniques, Kobe University, March 2011
Biography
Assistant Professor in Kobe University (2007-2011), Assistant Professor in Muroran Institute of Technology (2012-2014), Postdoc Researcher via Postdoctoral Fellowship of Japan Society for the Promotion of Science (JSPS) (2013-2015), Experienced Postdoc Researcher in University of Siegen (2015-2018), Associate Professor in Kindai University
Awards
Top performance at TRECVID 2012 Semantic Indexing (lite) task sponsored by National Institute of Standards and Technology (NIST)
Second place at TRECVID 2016 Ad-hoc Video Search (AVS) (manually-assisted) task sponsored by National Institute of Standards and Technology (NIST)
Third place at TRECVID 2018 Ad-hoc Video Search (AVS) (manually-assisted) task sponsored by National Institute of Standards and Technology (NIST)
Message to Students
Although you have a lot of things to do, please consider your "health" the most important! With the healthy body, you can try your best and succeed in your study, sports activity, etc.
Research Group for Multimedia Understanding
Academic Staff and Fellows