Academic Staff and Fellows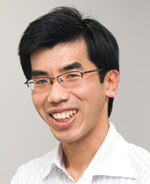 ISHIMIZU Takashi

Lecturer Ph.D
Department/Informatics 
In the same way that a single task can be completed sooner if performed by 10 people, using 10 computers to perform a single task means it can be processed more quickly. This laboratory does research on methods for using multiple computers working cooperatively on various processing tasks.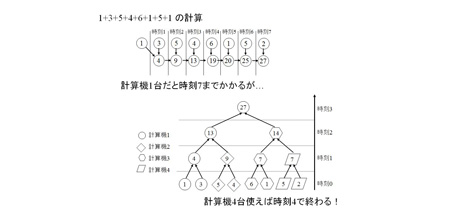 Example of parallel computing
Research Area
Parallel Algorithms
Research Interests
Parallel Aslgorithm
Selected Publications
(1) A Comparative Study of Structured Differential Evolutions, Proc. 10th WSEAS International Conference on Applied Computer Science, pp.321-326, 2010.
(2) Experiment Study of A Structured Differential Evolution with Mixed Strategies, Proc. the World Congress on Nature and Biologically Inspired Computing, pp.598-603, 2010.
(3) A Structured Differential Evolutions for Various Network Topologies, International Journal of Computers, Issue 1, Volume 4, pp.1-8, 2010.
Education
(Undergraduate Course)
BE from Osaka University
Education
(Master's/Doctral Course)
ME and DE from Nara Institute of Science and Technology
Title of Thesis, Institute, Date
Studies on Parallel Algorithms on The BSP Modeo,  Nara Institute of Science and Technology, March, 2000.
Logic Information System Laboratory
E-mail
takasi-i(at)info.kindai.ac.jp

Note that this e-mail address has replaced the "@" with "(at)" to prevent spam. When e-mailing, replace the "(at)" with "@".
Academic Staff and Fellows