Academic Staff and Fellows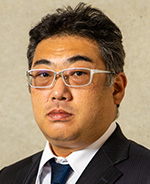 ABE Koji

Associate Professor Ph.D. in Engineering
Department/Informatics  Graduate school/Electronic Engineering
Our goal is to build an intelligent computer that behaves like a human. We are engaged in research involving image and audio media on a variety of software systems that take into account human subjectivity, experience, and sensitivity.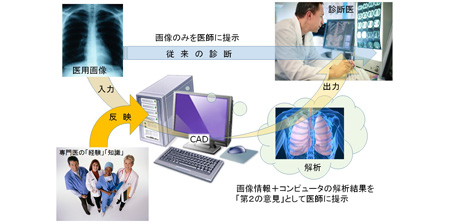 Computer-aided Diagnosis for Medical Images (CAD)
Research Area
Media Informatics,
Pattern Recognition,
Medical Image Processing,
Computer Vision
Research Interests
Content-based Image Retrieval (CBIR), Content-based Video Retrieval (CBVR), Computer-aided Diagnosis for Medical Images (CAD), Computer Vision (CV)
Selected Publications
(1) Application of a Computer-aid Diagnosis of Pneumoconiosis for CR X-ray Images, Journal of Biomedical Engineering and Medical Imaging, vol.1, iss.5, pp.113-122, Oct. 2014.
(2) Computer-aided diagnosis of pneumoconiosis X-ray images scanned with a common CCD scanner, Automation, Control and Intelligent Systems, vol.1, no.2, pp.24-33, Apr. 2013.
(3) Brain-computer Interface for Assisting Decision-making on Individual Preference by Switching Support Vector Machines, International Journal of Computational Science, vol.4, no.6, pp.477-490, Dec. 2010.
Research and Achievements
Education
(Undergraduate Course)
BS and MS from Kogakuin University
Education
(Master's/Doctral Course)
Ph.D. in Engineering from Kanazawa University
Title of Thesis, Institute, Date
Research on Similarity Retrieval of Trademark Images, Kanazawa University, Mar. 2001.
Laboratory for Media Informatics and Cognitive Science
E-mail
koji(at)info.kindai.ac.jp

Note that this e-mail address has replaced the "@" with "(at)" to prevent spam. When e-mailing, replace the "(at)" with "@".
Academic Staff and Fellows