Academic Staff and Fellows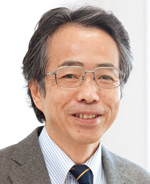 TADA Hiroaki

Professor Doctor of Enginnering
Department/Applied Chemistry  Graduate school/Molecular and Material Engineering
This laboratory synthesizes novel hybrid visible-light-responsive photocatalysts. Our research goal is to apply these in chemical material conversion (decomposition of harmful substances + synthesis of useful substances) that makes effective use of solar energy.
Studies on Semiconductor-Based Nanocoupling Systems
Research Area
Photoelectrochemistry
Research Interests
1. Synthesis of novel visible-light catalysts and application to solar material transformation
2. Development of quantum dot-sensitized photoelectrochemical cells for hydrogen production and solar cells
3. Surface charge transfer complexes consisting of organic molecules and inorganic semiconductors
Selected Publications
(1) All-Solid-State Z-Scheme in CdS-Au-TiO2
Three-Component Nanojunction System,
Nature Materials, 2006, 5, 782.
(2) Carbonate-Surface Modified Titanium(IV) Oxide
with Bimodal Gold Nanoparticles: Visible-Light-Driven
Formation of Hydrogen Peroxide from Oxygen,
Angew. Chem. Int. Ed., 2016, 55, 12773.
(3) Red-Light-Driven Water Splitting by Au(Core)-CdS
(Shell) Half-Cut Nanoegg with Heteroepitaxial Junction,
J. Am. Chem. Soc. 2018, 140, 1251.
External Activity
ChemPhysChem (Wiley-VCH),
Advisory editorial board (2019 ~)
Education
(Undergraduate Course)
BE and ME from Kyoto University
Title of Thesis, Institute, Date
Studies on the Ionic Conductivity of Solid Poymer Electrolytes, Kyoto University, February 1992
Applied Physical Chemistry Laboratory
E-mail
h-tada(at)apch.kindai.ac.jp

Note that this e-mail address has replaced the "@" with "(at)" to prevent spam. When e-mailing, replace the "(at)" with "@".
Academic Staff and Fellows