Academic Staff and Fellows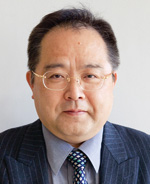 FUJINO Takayoshi

Associate Professor Doctor of Engineering
Department/Applied Chemistry 
The research theme of this laboratory is the surface science of light metals such as titanium and aluminum. Our research efforts rest on the three pillars of the environment, bio, and energy, and we promote manufacturing and development based on collaboration among industry, government, and academia.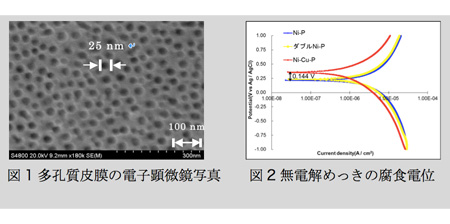 Microscope photograph and corrosion potential of thin films
Research Area
Analytical Chemistry, Environmental Engineering
Teaching (Undergraduate Course)
Analytical Chemistry, Environmental Engineering, Experiment III for Applied Chemistry
Research Interests
High Function by Surface Modification & Treatment of Light Metal(Aluminum, Magnesium and Titanium etc.).
Development of the High Functional Material with Anodic Oxidation by Hybrid Electrolytic Method and Electroless Plating on Light Metal.
Selected Publications
(1)Preparation of Nickel Nanopillars Using Structure-Controlled Porous Anodized Aluminum bu hybrid Electrolysis of AC and DC,J. Surf. Finish. Soc. Jpn, 61(6), pp.452-457(2010).
(2)A Grant of Photocatalyst Function by the Electrolytic Deposition of FeTiOx to the Hole Inside of Aluminum Oxdation Films,J. Surf. Finish. Soc. Jpn, 62(12), pp.663-666(2011).
(3)Production of the Ni-P Electroless Plating on Aluminum Die Casting (ADC12) ,Alumi. Finish. Soc. Kinki, 290(11), pp.8-15(2014).
Affiliated Academic Societies
Surface Finishing Society of Japan, The Japan Society for Analytical Chemistry, The Japan Society for Light Metals
External Activity
Surface Finishing Society of Japan(Director),
Aluminium Finishig Society of Kinki (Secretary General)
Education
(Undergraduate Course)
BE and ME from kindai University
Title of Thesis, Institute, Date
Studies on effect of reducing powders on atomic absorption spectrometry and its application for differentiak determination
Biography
Associate Professor of Kindai University
Awards
Paper Prize of the Japan Society for Light Metals
Message to Students
More experience raises human being power, becomes skill up.
Books Recommended to Students
Routarou Siba
Interests and Others
Movie and Picture appreciation, Trip
Laboratory of Applied Control Chemistry
Office Location
Building No. 38, the eighth floor, S808
E-mail
taka-f(at)apch.kindai.ac.jp

Note that this e-mail address has replaced the "@" with "(at)" to prevent spam. When e-mailing, replace the "(at)" with "@".
Academic Staff and Fellows