教員・研究者紹介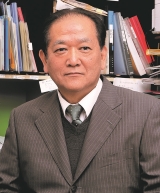 所属
工学部 化学生命工学科
システム工学研究科

学位
工学博士
専門
分子生物学、生物工学
ジャンル
科学・技術/遺伝子・DNA技術
コメント
進化を通して獲得してきた生物の物質合成・変換能に着目し、バイオマスの有効利用に活用可能なセルラーゼの開発に関する研究をしている。また、放射線に耐性をもつ細菌類のゲノム解析にも着手。
リサーチマップ
https://researchmap.jp/read0016542
高校生の方へ 研究室紹介
遺伝子の進化に着目し新たな酵素の開発をめざす。
生物進化をまねた方法で新しい酵素を開発。現在は特殊なカビが作り出すセルラーゼの遺伝子や放射線耐性菌ゲノムの解析を行っている。
学歴/経歴
学歴
- 1985年
広島大学 工学研究科
- 1985年
広島大学 Graduate School, Division of Engineering
- 1980年
広島大学 工学部
- 1980年
広島大学 Faculty of Engineering
研究活動情報
研究分野
ライフサイエンス, 分子生物学
ライフサイエンス, 機能生物化学
研究キーワード
機能生物化学, 分子生物学, Functional biochemistry, Molecular Biology
論文
Rubrobacter radiotolerans由来Mg-SODの性質および放射線耐性機能
Hiroaki TERATO; 鈴木 克之; Nobuhiro NISHIOKA; Atsushi OKAMOTO; Yuka SHIMAZAKI-TOKUYAMA; Yuko INOUE; Takeshi SAITO
J. Radiat. Res. 52 (6) 735-742 2011年11月
非必須酵母リボソームタンパク質は、ペプチド転移活性を最適化し、転座に作用する
鈴木 克之; Dresios, J; Panopoulos; P. Synetos, D
J. Biol. Chem. 278 (5) 3314-3322 2003年1月
好アルカリ性細菌 Bacillus halodurans C 125 株ゲノムに存在する全シグマ因子遺伝しの解析
仲宗根 薫; 鈴木 克之
近畿大学工学部研究報告 34 (35) 13-16 2001年12月
書籍等出版物
リボソーム(共著) , 分子細胞生物学辞典、東京化学同人 , 1997年
プロトリボソーム(共著) , 分子細胞生物学辞典、東京化学同人 , 1997年
Molecular-targeting chemotherapy for gastric cancer. (jointly worked) , Progress in Gastric Cancer research in 1997、Eaton Publishing , 1997年
講演・口頭発表等
Kocuria roseaにおける放射線耐性関連遺伝子の解析 , 吉本一至; 鈴木 克之 , 第11回近畿大学環境科学研究会 , 2012年8月
新規Cladosporium属糸状菌由来EGL1遺伝子の構造及び機能の解析 , 山田涼太; 鈴木 克之 , 第11回近畿大学環境科学研究会 , 2012年8月
実験,実習をベースとした生物工学/化学の導入・動機づけ教育への取り組み-平成15年度文部科学省サイエンス・パートナーシップ・プログラム報告- , 白石 浩平; 鈴木 克之; 仲宗根 薫; 岡田 芳治 , 平成17年度(第53回)日本工学教育協会 , 2005年9月
MISC
A dispensable yeast ribosomal protein optimizes peptidyltransferase activity and affects translocation , J Dresios; P Panopoulos; K Suzuki; D Synetos , JOURNAL OF BIOLOGICAL CHEMISTRY , 278 , 5 , 3314 , 3322 , 2003年1月
概要:Yeast ribosomal protein L41 is dispensable in the yeast. Its absence had no effect on polyphenylalanine synthesis activity, and a limited effect on growth, translational accuracy, or the resistance toward the antibiotic paromomycin. Removal of L41 did not affect the 60:40 S ratio, but it reduced the amount of 80 S, suggesting that L41 is involved in ribosomal subunit association. However, the two most important effects of L41 were on peptidyltransferase activity and translocation. Peptidyltransferase activity was measured as a second-order rate constant (k(cat)/K-s) corresponding to the rate of peptide bond formation; this k(cat)/K-s was lowered 3-fold to 1.15 min(-1) mM(-1) in the L41 mutant compared with 3.46 min(-1) mM(-1) in the wild type. Translocation was also affected by L41. Elongation factor 2 (EF2)-dependent (enzymatic) translocation of Ac-Phe-tRNA from the A- to P-site was more efficient in the absence of L41, because 50% translocation was achieved at only 0.004 muM EF2 compared with 0.02 muM for the wild type. Furthermore, the EF2-dependent translocation was inhibited by 50% at 2.5 muM of the translocation inhibitor cycloheximide in the L41 mutant compared with 1.2 muM in the wild type. Finally, the rate of EF2-independent (spontaneous) translocation was increased in the absence of L41.
GPHN, a novel partner gene fused to MLL in a leukemia with t(11;14)(q23;q24) , M Eguchi; M Eguchi-Ishimae; M Seto; K Morishita; K Suzuki; R Ueda; K Ueda; N Kamada; M Greaves , GENES CHROMOSOMES & CANCER , 32 , 3 , 212 , 221 , 2001年11月
概要:We report a novel MLL-associated chromosome translocation t(11;14)(q23;q24) in a child who showed signs of acute undifferentiated leukemia 3 years after intensive chemotherapy, that included the topoisomerase-II inhibitor VP 16. Screening of a cDNA library of the patient's leukemic cells showed a novel fusion transcript between MLL and the Gephyrin (GPHN) gene on 14q24. The resulting MLL-GPHN fusion gene encodes MLL AT hook motifs and a DNA methyltransferase homology domain fused to the C-terminal half of Gephyrin, including a presumed tubulin binding site and a domain homologous to the Escherichia coli molybdenum cofactor biosynthesis protein MoeA. Genomic breakpoint analysis showed potential, in vitro topoisomerase-II DNA-binding sites spanning the breakpoints in both MLL and GPHN but no flanking sequences that might mediate homologous recombination. This suggests that MLL-GPHN may have been generated by VP 16/topoisomerase-II-induced DNA double-strand breaks, followed by error-prone DNA repair via non-homologous end joining. Gephyrin was originally identified as a submembraneous scaffold protein that anchors and immobilizes postsynaptic membrane neurotransmitter receptors to underlying cytoskeletal elements. It also is reported to bind to phosphatidylinositol 3,4,5-triphosphate binding proteins involved in actin dynamics and downstream signaling and, interacts with ATM-related family member RAFTI. Gephyrin domains in the chimeric protein therefore could contribute novel signal sequences or might modify MLL activity by oligomerization or intracellular redistribution. (C) 2001 Wiley-Liss, Inc.
Regulatory network of mitomycin C action in human colon cancer cells , K Suzuki; W Yamamoto; JS Park; H Hanaoka; R Okamoto; Y Kirihara; T Yorishima; T Okamura; T Kumazaki; M Nishiyama , JAPANESE JOURNAL OF CANCER RESEARCH , 90 , 5 , 571 , 577 , 1999年5月
概要:A network composed of activation and inactivation pathways to regulate mitomycin C (MMC) action is suggested to exist in human cancer cells. COLO201 colon cancer cells were stably transfected with human NQO1 cDNA that encodes NAD(P)H:quinone oxidoreductase (DT-diaphorase, DTD), and a clonal cell line with about 57-fold elevated DTD activity was obtained. Northern analysis revealed that expression of the NADPH:cytochrome P450 reductase (P450 reductase) gene was decreased in the transfectant, COLO201/NQO1, associated with the increase of NQO1 expression. Biochemical characterization of the cells showed a significant increase of the glutathione (GSH) content concomitantly with the decrease of the P450 reductase activity. As a result of these coordinated modulations, sensitivity of COLO201/NQO1 to MMC was not increased as compared to the parent cells. Analyses of inhibition by specific inhibitors of DTD, P450 reductase and glutathione S-transferase (GST) in 5 human colon cancer cell lines including the transfectant showed that DTD and P450 reductase play significant roles in MMC: activation in cells with sufficiently high DTD activity and with marginal DTD activity, respectively. In contrast, GST appeared to participate in MMC inactivation in cells with a high level of GST activity These results indicated that DTD, P450 reductase, GSH and GST may act together compensatively or competitively, depending on their levels in cells, to determine the cellular sensitivity to MMC.
共同研究・競争的資金等の研究課題
窒素固定関連遺伝子の分子進化
Molecular evolution of Nitrogen-fixation genes
生体高分子の進化工学