教員・研究者紹介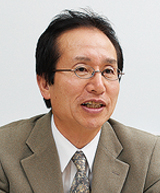 所属
工学部 ロボティクス学科
システム工学研究科

学位
工学博士
専門
ロボットビジョン、画像処理
ジャンル
科学・技術/新技術
コメント
カメラで得られた画像を工業製品の検査やラインの自動化に利用する研究、また交通標識を認識して運転者の支援を行う研究を行っています。
リサーチマップ
https://researchmap.jp/read0033972
高校生の方へ 研究室紹介
人の視覚や聴覚を備えたロボットの実現をめざす。
人間のような視覚や聴覚を持つ移動ロボットの実現に取り組む。そのロボットをインターネットを利用して遠隔操作するためのシステム構築を研究中。
学歴/経歴
学歴
- 1986年
広島大学 工学研究科
- 1986年
広島大学 Graduate School, Division of Engineering
- 1981年
広島大学 工学部
- 1981年
広島大学 Faculty of Engineering
研究活動情報
研究分野
ものづくり技術(機械・電気電子・化学工学), 計測工学
ものづくり技術(機械・電気電子・化学工学), 通信工学
研究キーワード
情報・通信工学, 計測工学, Information and Communication Engineering, Electronic Measurements
論文
Recognition of Speed Limits on Speed-Limit Signs by Using Machine Learning
宮田 繁春
Proc. of 24th International Conference Mechatronics and Machine Vision in Practice 381-389 2017年11月 [査読有り]
Automatic Recognition of Speed Limits on Speed-Limit Signs by Using Machine Learning
宮田 繁春
J. Imaging 3 (25) 1-18 2017年7月 [査読有り]
Automated License Plate Detection using a Support Vector Machine
宮田 繁春
Proceeding of 2016 The 14th International Conference on Control, Automation, Robotics and Vision 2016年11月 [査読有り]
書籍等出版物
「人工知能」人工知能の導入による生産性、効率性の向上、新製品開発への応用 , 宮田 繁春 , 技術情報協会 , 2018年5月
Image Processing(ISBN 978-953-307-026-1) , 宮田 繁春 , In-Tech , 2009年12月
Digital Signal Processing for Communication Systems , 宮田 繁春 , Kluwer AcademicPublishers , 1997年5月
講演・口頭発表等
テンセグリティ構造を利用した小型水中ロボットの開発 , 柴田 瑞穂; 宮田 繁春 , SICE SI 2012 , 2012年12月
Method for recognition of numbers on speed limit signs utilizing an eigen space method based on the KL transform , 宮田 繁春; 竹原 伸; 酒井 英樹 , 12th International conference on Control, Automation, Robotics and Vision(ICARCV 2012) , 2012年12月
KL変換に基づく固有空間法を用いた最高速度制限標識の文字認識 , 宮田 繁春; 竹原 伸; 酒井 英樹 , 第11回情報科学技術フォーラム(FIT2012) , 2012年9月
MISC
A STUDY ON THE STATISTICAL CHARACTERISTICS OF SPECKLE IN ULTRASONIC B-MODE IMAGING , S MIYATA; M OHTA; K ITO; K HAYAMI; K NAITO; Y KOTERA , ACUSTICA , 81 , 1 , 84 , 89 , 1995年1月
A SIGNAL INFORMATION-PROCESSING FOR THE STOCHASTIC RESPONSE PREDICTION OF DOUBLE-WALL TYPE SOUND INSULATION SYSTEM , M OHTA; S MIYATA , IEICE TRANSACTIONS ON FUNDAMENTALS OF ELECTRONICS COMMUNICATIONS AND COMPUTER SCIENCES , E77A , 7 , 1194 , 1198 , 1994年7月
概要:In direct connection with the signal information processing, a practical method of identification and probabilistic prediction for sound insulation systems is theoretically proposed in the object-oriented expression forms by introducing a few functional system parameters. Concretely, a trial of identification of the above functional system parameters and the output probabilistic prediction for a panel thickness change of double-wall type sound insulation system, especially, under the existence of a strong background noise inside of the reception room, is newly proposed based on one of wide sense digital filters and SEA (Statistical Energy Analysis) method. Finally, by using the actual music sound of an arbitrary distribution type, the effectiveness of the proposed method is confirmed experimentally by applying it to some problems of predicting the cumulative probability distribution of the transmitted sound level fluctuation.
A stochastic signal processing method for removing a wind noise based on the wide sense digital filter in a low frequency sound measurement , Mitsuo Ohta , Journal of the Acoustical Society of Japan (E) , 15 , 6 , 397 , 401 , 1994年
概要:As is well-known, in the measurement of low frequency sound, a main spectrum component of the wind noise coexists almost within the same frequency bands as the low frequency sound. Accordingly, it is essentially difficult to eliminate this effect of wind noise only by using the analog filter based on the usual electrical cricuit. From the above point of view, in this paper, a new trial of removing the above effect of wind noise are proposed, especially by focusing the dynamically computer aided algorithm of state estimation. Concretely, this method is based on the principle of Bayes' filter. Finally, the effectiveness of the proposed state estimation method is experimentally confirmed too by applying it to the actual data of low frequency sound signal observed in a free sound field. © 1994, Acoustical Society of Japan. All rights reserved.
共同研究・競争的資金等の研究課題
画像解析
画像解析
Image Analysis